Author
---
Rosa Vercoe
Rosa Vercoe is a freelance blogger who has recently started her own blog. She was born in Turkmenistan (Mary) but grew up in Kazakhstan (Almaty). Rosa is a regular supporter and contributor to the events, workshops and conferences focused on Central Asian Studies. Her educational background includes Diploma in Russian Language and Literature (Kazakhstan State University named after Al-Farabi), MA in International Relations (Nottingham Trent University, UK) and MSc in Development Studies with Special Reference to Central Asia (SOAS University of London – School of African and Oriental Studies). Rosa is based in St Albans, Hertfordshire, UK.
The rich history, beauty and uniqueness of traditional Uzbek dance is recognized on the world's multifaceted dance landscape.
As a result of a three-year (2011-2014) joint project between Uzbekistan and the International Information Joint Center on Intangible Cultural Heritage of the Asia-Pacific Region under the auspices of UNESCO, Uzbek dance was included on the National List of Intangible Cultural Heritage of Uzbekistan. Other forms of cultural heritage placed under state protection include various types of traditional Uzbek singing and music: doston, maqom, bakhshichilik, katta ashula, etc.
My recent trip to Uzbekistan inspired me to delve into the history of Uzbek dance and the current state of scholarship on the topic. In the process, I became acquainted with individuals who are actively involved in the development of the Uzbek choreography and are exceedingly knowledgeable about this unique art.
Brief History
What are the origins of traditional Uzbek dance? Despite influencing forces of many different cultures that developed on the territory of present-day Uzbekistan over the course of thousands of years, Uzbek dance has preserved its individual style and a one-of-a-kind repertoire of movements, each with its own special meaning.
Researchers have linked modern Uzbek dance to the ancient ritual dances and ceremonial group actions that took place, for example, in Zarautsay gorge in the west of the Surkhandarya region. According to B. Sh. Irzaev, many of the more than 40,000 ancient drawings found in the Soimalitosh cave near the Fergana Mountains show people dancing. "These drawings reflect the harmony of man and nature, God worship and prayers as interpreted by a primitive artist," Irzayev writes in an article on the history of Uzbek national dance. The Katta Uyin dance—which, legend has it, owes its existence to the Persian prince Siyavush—may have been performed in the times of Alexander the Great, according to the most senior Uzbek choreographer, Yusufjon Kizik Shakarjonov, and other dance masters.
Officially, Uzbekistan's dance art dates back to the 10th and 11th centuries, when it was accompanied by a tambourine or doira. Irzayev points out that the dances of this period are largely based on movements imitating various animals and birds, contemporary echoes of which can be found in Khorezm dances and the performances of Khorezm masharaboz during folk festivals.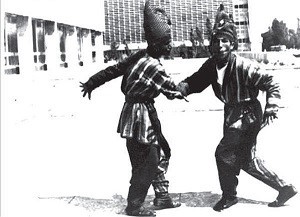 There are no simple movements in true Uzbek dance: each movement has its own meaning. Understanding body language and movements, one can read Uzbek dance as a book or a story. Dance was also a means of displaying the material culture, work, and everyday life of the people of that time, which explains the popularity of the use in dances of such household items as jugs, spoons, finger cymbals, teapots, knives, bowls, lyagans, and duchubs (sticks).
Depending on the region, the dances were performed in certain dress and accessories, which sometimes allowed the viewer to guess the regional identity of the dance. In the days of Islam, it was unthinkable that women should dance in public, especially in front of a male audience. Girls and women could only dance in ichkari (the half of the house designated exclusively for women), and even then only in front of close family members. At the same time, both during the Mughal Empire and in the times of the Kokand and Khiva Khanate and the Emirate of Bukhara, rulers loved to entertain themselves with high-quality performances of music, dance and poetry. To skirt the religious taboos, women's dances were performed by bachchi—boys in women's clothes. Officially, women were not allowed to participate, leading to cases where talented women were forced, on pain of death, to change into men's clothes in order to participate in poetry or song festivals.
Dance masters were an integral part of the court entourage at the imperial and khan courts. For example, the famous dancer Sadi Mahsum served the last three Kokand khans for 6 years. Each region or city had its own dance artists who preserved the traditions and subtleties of choreographic art from generation to generation: Yusufjon Kizik Shakarjonov (1869–1959), Mahkam Hofiz (1868–30), and the outstanding dance collector and choreographer Usta Alim Kamilov (1875–1953). When Uzbekistan became a part of the Russian Empire, this intensified interest in European culture, ballet, opera, and dance and enriched the Uzbek national performing arts, including the art of choreography. After the October Revolution, choreographic art drew even more attention, due in part to the emancipation of women brought by the Soviets. Tamara Khanum (née Petrosyan), an Armenian by nationality, who in 1933 opened the first Uzbek ballet school in Tashkent, became a true revolutionary in the development of female stage dance in Uzbekistan.
Tamara Khanum: From ichkari to the Albert Hall
Tamara Khanum (1906–1991), originally from Margilan in the Fergana Valley, discovered a keen interest in performing folk dances and songs early in life. As a girl, she danced in her native village of Skobelevo, initially exclusively in ichkari. In 1920, 14-year-old Tamara moved to Tashkent, where she first plunged into the local theatre scene thanks to the assistance of the Russian Karganov sisters, who were actively involved in promoting classical music, ballroom dancing, and ballet. Over time, Tamara became a true star of the Uzbek theatre, with the aid of Usta Alim Kamilov, the creator of the entire modern choreography of Uzbekistan, who played a key role in the dancer's professional development. Together, they wrote the textbook Doira Dare, which included all the basic dance movements performed with doira accompaniment. Usta Alim belonged to the ranks of the usulchi, connoisseurs of maqom music and dance. The role of usulchi was extremely important in preserving folk art through the generations.
Together with Usta Alim, Tamara Khanum adapted a dance for Uzbek men to create the dance of a free Uzbek woman who went from being submissive and shy to self-assured and strong-willed, radiating confidence and joy in life. In 1935, Tamara Khanum and Usta Alim made a stunning performance for the refined British public in the prestigious Albert Hall in London. Notably, the entire Soviet delegation was invited to the royal reception to receive awards as a sign of admiration for the delegation members' performance skills.
The first ballet school was opened in Tashkent in 1933 on the initiative and with the help of Tamara Khanum. Tamara Khanum also took an active role in creating the first national ballets—such as Shahida and Gulyandom—which borrowed from Uzbek classical and folk dance.
I was fortunate enough to visit the Tamara Khanum Museum, located in a cozy area of Tashkent. The Museum is actually located in the former home of the famous dancer, and all her dance costumes, books, portraits of famous artists, photos, awards and personal belongings are still kept there. It was very exciting to sit in the kitchen and stand in the living room of the famous Tamara Khanum and plunge into her amazing yet modest world.
Many of the first students of Tamara Khanum were girls from purged families, whose parents were imprisoned in camps for political prisoners or shot without trial on the false accusations of Stalin's "associates." Girls from so-called "good families'" were not allowed to go to ballet schools, as traditional families viewed this as shameful. Tamara Khanum's task was not only to revive Uzbek traditional dances, but also to break centuries-old stereotypes about the alleged indecency of dance classes for girls and teach girls to dance without wearing a burqa. This was a risky venture, as the stories of women who dared to dance unveiled show: Nurhon Yuldashhodzhaeva was killed by her brother in 1929 at the age of just 16, and the talented singer and actress Tursunoy Saydazimova was killed by her husband in 1928 at the age of 18, without reaching the peak of her extraordinary talent. Tamara Khanum herself was repeatedly subjected to threats and physical attacks for trying to involve talented Uzbek girls in her dance group.
Despite all these obstacles, Tamara managed to raise a brilliant galaxy of Uzbek dancers. One of the most stunning of her students was Mukarram Turgunbaeva, the founder of the world-famous folk dance ensemble "Bahor."
In Tashkent, I had the good fortune to meet a student of Mukarram Turgunbaeva, People's Artist of Uzbekistan Gulnora Nizamovna Mavayeva, who was born in Samarkand in 1931.
Gulnora Mavaeva: Difficult Fate and Brilliant Career
Gulnora Mavaeva had a happy childhood. She lived with her parents and sister on Obukhov Street in Samarkand, where the Uzbek intellectual elite and even descendants of the Russian princes of the Romanovs who had been exiled to Turkestan by the Emperor Alexander lived at that time. They taught little Gulnor the Russian alphabet and reading.
This happy childhood was destroyed overnight by the brutal and soulless Stalin machine in 1937: one day, her father, Nizomiddin Mavo, a responsible party member, left for work and never returned. Later, her mother, Sonia Rozybakiyeva, a lawyer and relative of the famous Uyghur revolutionary Abdulla Rozybakiyev, was also taken away. Six-year-old Gulnora and her three-year-old sister, Elmara, remained under the care of their Tatar nanny before the arrival of her grandmother, Hazhar Rozybakiyeva, who looked after her granddaughters until Gulnora was sent to orphanage N20 and Elmara taken to her Uyghur relatives. Unfortunately, her parents' health deteriorated so much during detention that they passed away shortly after being released from the camps a year later.
Gulnora's development as a professional dancer and ballerina was supported by Mukarram Turgunbaeva, Usta Alim Kamilov, and Tamara Khanum. Nizam Khaldarov, a close friend of Gulnora's parents, found her in an orphanage in 1939 and sent her to the Tamara Khanum Ballet School, where she studied the art of classical ballet from Russian teachers from the Mariinsky Theater in St. Petersburg. In Tamara Khanum's ballet school, Gulnora studied with eight orphan girls from repressed families. Usta Alim and Mukarram Turgunbaeva were her Uzbek dance teachers, and she still remembers them with the greatest respect and love. Turgunbaeva later staged several Uzbek dances for Gulnora that were included in her dance portfolio. Young Gulnora was especially good at soft lyrical dances of the Fergana school.
In 1949, Gulnora was sent for further training to the Moscow Choreographic School at the Bolshoi Theater. Then began her artistic dance career at the Navoi Tashkent Opera and Ballet Theater, a time filled with concert activities and tours around the world. Gulnora danced the lead role in the ballets Don Quixote, The Fountain of Bakhchisarai, Masquerade, Ballerina, The Coast of Happiness, Sleeping Beauty, Esmeralda, Faust, Don Juan, Seven Beauties, and a number of concert numbers.
After being appointed artistic director of the Tashkent School of Choreography in 1975, Gulnara Nizamovna began to invite famous dance teachers, ballet masters, and choreographers from Russia and abroad to exchange experience and improve the level of teachers. Yet technique alone is not enough for a real dance, she said: "There must be a soul in every movement."
Gulmira Madrahimova: A Star of "Navbahor"
Gulmira Ulmaszhanovna Madrahimova was awarded the title of Honored Artist of Uzbekistan. I met Gulmira thanks to the introduction by her daughter, Dilorom Madrahimova.
Her love affair with dance began in childhood in her hometown of Andijan. She grew up in a musical and theatrical family headed by her grandfather, Mirzazhon Tillaev, a composer, professional musician, and conductor of the Andijan Music and Drama Theater. Gulmira actually realized the dream of her mother, who passionately loved dancing, but could not dance professionally due to the social constraints of the time. Gulmira became a soloist of the dance group "Andijan Polka," and at the age of 13 she was accepted into the Tashkent School of Choreography.
After graduating from school, Gulmira began to dance in the famous State Song and Dance Ensemble "Shodlik," led by the famous Uzbek choreographer Kadyr Muminov. She worked there for 20 years, receiving the title of Honored Artist and the Mukarram Turgunbaeva Prize. Subsequently, she became the choreographer of the ensemble. In 2016, Gulmira assumed the role of chief choreographer of the ensemble "Navbahor" ("New Spring") at the Uzbek State Philharmonic. Gulmira says that the Tashkent School of Choreography was one of the five best choreographic schools of the former Soviet Union after Moscow, Leningrad (now St. Petersburg), Perm, and Kiev.
Future Prospects?
After the collapse of the Soviet Union and the subsequent economic downturn, Uzbek dance temporarily fell out of sight of the relevant state institutions. Gulmira Ulmaszhanovna worries about the purity and uniqueness of Uzbek dance and preserving of the best national traditions of the Fergana, Bukhara, Khorezm, Surkhandarya and Karakalpak schools of Uzbek folk dance. After all, every historically established school has its own style and character: gentle lyrical dances for Fergana, distinctive, high-energy dances with virtuosic, sometimes acrobatic movements for Khorezm dance 'Lyazgi', rhythmic and aristocratic dances in gold-embroidered vests for Bukhara, and a very special dance of Surkhandarya and Karakalpakstan.
Recently, I watched an amazing documentary, shot at the Uzbek Film Studio in 2017 (artistic director, Shukhrat Makhmudov, producer and camera operator, Rustam Magadiev), that vividly demonstrates the features of each dance school.
As old institutions (such as the Art Council) and foundations collapsed, control over the quality of performance and authenticity of dance was temporarily lost. Currently, says Gulmira Ulmaszhanovna, Turkish and Arabic dances are having a negative impact on Uzbek dance. Due to the forced commercialization of this art, dancers are asked to dance Uzbek dance to Arabic or Turkish music or a song in the Uzbek language, which is completely incompatible with the true Uzbek dance performed exclusively to the rhythms of doira. Greater freedom in staging dances and the desire to please customers has also brought about changes to traditional dance costumes, which have historically differed by region in terms of tailoring and accessories. The costumes sewn somewhere in China are not able to reflect this unique specificity and therefore the true essence of the Uzbek dance. Meanwhile, low salaries force professional dancers to earn extra money at weddings and other family and corporate celebrations, leading to not-always-desirable adjustments to the dance style at the request of customers.
Despite these negative trends, there are venues in which the best traditions of Uzbek dance are preserved, in particular the Mukarram Turgunbayeva dance art competition, held annually at the Tashkent State Higher School of National Dance and Choreography (TGVShTIH). The competition has two rounds: compulsory dances in the style of Turgunbayeva with preservation of the features of costumes, and freestyle, where new trends in modern dance can be showcased. The jury necessarily includes students of Turgunbaeva, who strictly monitor the use of her style. This competition provides a sustainable basis for the selection and promotion of the best young talents and at the same time helps to preserve the uniqueness and purity of Uzbek dance. These contests have discovered several promising young stars, including Dilorom Madrahimova, the daughter of Gulmira Madrahimova, a graduate of the Tashkent School of National Dance and Choreography and a famous performer of national and folk dances. She is currently taking a Master's Course at the Faculty of Ballet Choreography in the Russian Academy of Ballet named after A. Ya. Vaganova. Her task is to return home to Tashkent after graduating and continue the work of her mother, Gulmira Madrahimova, to develop Uzbek stage dance and ballet.
Uzbek dance has survived a lot: wars and invasions of the great emperors, religious taboos and restrictions, the "melting pot" of cultures and influences of the Great Silk Road, the colonial history of the Russian empire, and the October revolution with its "Soviet identity" policies, which ultimately resulted in self-destructive restructuring and national self-determination. A pleasing new development is Uzbek President Shavkat Mirziyoyev's recent initiative to create a new state institution, "Uzbekconcert," under the Ministry of Culture, which included 2,500 creative teams and performers, including dance groups. The purpose of this association is to strengthen and further develop the best traditions of Uzbek art. Now, when Uzbekistan is in such an exciting phase of the new "Uzbek spring," it may be that the moment has finally come for the country to take a fresh look at its ancient cultural heritage and give it a second wind.
---
The author is deeply grateful to Gulnora Nizamovna Mavaeva, Gulmira Ulmaszhanovna Madrahimova, Dilorom Madrahimova, Shukhrat Makhmutovich Tokhtasimov, and Gulnora Musaeva for providing support, hospitality, and valuable information during the writing of this article.