The traditional clothes of Central Asian peoples, made from abr silk and semi-silk fabrics in the nineteenth and early twentieth centuries—chapans and munisaks, burqas and kuylaks, skullcaps and kultapushaks—became the objects of a thrilling hunt for various collectors and foreign connoisseurs.
Author
---
Elmira Gyul
Doctor of Art History, Institute of Art History of the Academy of Sciences of the Republic of Uzbekistan
Here we recall the brief history of such collection efforts, discuss the most significant private collections, and reflect on the challenges of preserving cultural heritage.
One Man's Everyday Attire, Another Man's Treasure
Uzbek traditional clothing and abr fabrics came to be collected later than, for example, carpets or interior embroidery, known generally as suzani. Neither abr fabrics nor the clothing made from them were considered an elite product, as we imagine today. These fabrics were used by everyone—rich and poor, men and women, adults and children—as can be seen in archival photographs of the late nineteenth and early twentieth centuries. Testifying to the non-elite status of these garments, if you look at the ceremonial photographic portraits of the Bukhara, Khiva, and Kokand rulers, you will often see that they are dressed instead in more expensive robes made of imported brocade.
As the American researcher Andy Hale has noted, "Although abr textiles were included in many of the early exhibitions of Central Asian material culture that were presented throughout the Russian Empire, they did not seem to attract as much attention or love [as] suzani embroidery or famous Turkmen carpets." This is confirmed by a series of unique photographs taken on the territory of the British diplomatic mission in Tehran between 1897 and 1899. In the images, mission employees inspect the Shakhrisabz suzanis and Karakalpak yurt ribbons spread before them by a merchant.
Perhaps abr fabrics simply seemed too exotic and strange to Europeans. Indeed, the nineteenth-century Hungarian orientalist and traveler Arminius Vambery wrote: "The poverty … of the inhabitants of Central Asia is especially visible from their clothes. It is extremely difficult for someone unaccustomed to get used to the simple paper material or bright silk in which absolutely everyone dresses—both men and women, both old and young."
Great Game, Great Finds
Nevertheless, international interest in abr silk gradually gained momentum. Once the region came to the attention of European powers and Russia, following the vicissitudes of the Great Game, a market for local textiles gradually emerged, and some were even exported.
Almost all of the famous travelers who came to the region on various missions were involved in the purchase and export of local fabrics and clothing as objects of ethnographic interest. One of those who appreciated the peculiar beauty of abr fabrics was the British explorer Robert Shaw, who visited East Turkestan in 1868. Shaw's mission—to map the unexplored territory of the Pamir Mountains—was not military, but primarily commercial. After his death in 1879, members of the Shaw family donated the rarities he had brought back with him from Central Asia to various British museums (including the Victoria and Albert Museum in London and the Ashmolean Museum of Art and Archeology in Oxford).
Ole Olufsen, a Danish military officer and explorer, made several expeditions to the Bukhara Emirate in the 1890s. He brought back samples of textiles that are now housed in the National Museum of Denmark. Another collector was Willi Rickmer Rickmers, a German climber, scientist, and of course scout who in 1903, 1913, and 1928 went on exhibitions in the Caucasus and the Pamirs, as well as visiting other mountains of Central Asia. His textile acquisitions have been held by the Linden Museum in Stuttgart since 1905.
In Russia, abr silk was known mainly as an item of trade (including in the form of dyed warp threads, which were used by Russian fabric-makers) and as a diplomatic gift. Such gifts—sent by caravans to the imperial capital, St. Petersburg—became especially numerous after the conquest and annexation of the Uzbek khanates. After the revolution of 1917, all this luxury was transferred to state museum collections (the Russian Ethnographic Museum, the Kunstkamera, the Hermitage, etc.).
Commemorated in Art
Abr robes are now seen not as something exotic and tribal, but as something elitist and artistically significant. Such depictions began in the early twentieth century with those Russian artists who painted the portraits of representatives of creative circles and the early Soviet intelligentsia. Thus, Boris Kustodiev chose to feature his son in an abr robe ("Portrait of a Son," 1922). Similarly, Mikhail Nesterov's images of famous figures show them dressed in brightly colored chapans ("Portrait of academician, biologist A.N. Severtsov," 1934, "Portrait of A.V. Shchusev," 1941).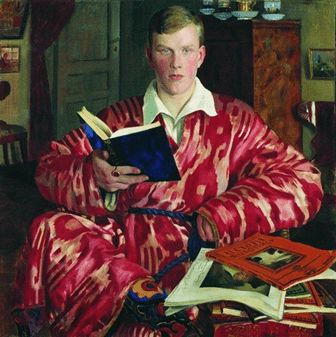 In the work of avant-garde artist Lyubov Popova (1889–1924), who visited Bukhara and Samarkand in the spring of 1916, we can see more implicit aesthetics of abr fabrics. In turn, Yulia Razumovskaya (1896–1987) clearly depicts the patterns of these fabrics in her graphic sketches. In 1925, she graduated from VKHUTEMAS and went to Uzbekistan. The artist's works dedicated to Bukhara, Samarkand, and Tashkent, in which special attention is paid to the bright, decorative local clothing, are now held by various museum and private collections.
Traditional Clothes Become Antique
As Uzbeks moved around during the Soviet era, their textiles went with them. In the early Soviet period, some Uzbeks fled to the Pamir mountains or beyond the Amu Darya, taking all their belongings with them. Almost all the Lakai left Uzbekistan, spreading their glorious culture and magnificent textiles around the world. While the Lakai were cattle breeders who did not cultivate silk, they—like all ethnic groups in Uzbekistan—did wear clothes made from silk. As a result of the mass migration of Lakai and other Central Asian semi-nomadic tribal groups to the territory of Afghanistan, Herat became a real mecca for collectors and fans of traditional textiles. Following the coup d'etat in Afghanistan in 1973 and the outbreak of civil war there, however, the center of trade in Central Asian textiles moved to Istanbul.
It was also in the 1970s that textile lovers were rediscovering the phenomenon of reserve-dyed fabrics, which include abr fabrics, thanks to fundamental research in this area. This research included Alfred Bühler's three-volume German-language text Ikat Batik Plangi: Reservemusterungen auf Garnun Stoffus Vorderasien, Zentralasien, Südosteuropa und Nordafrica (1972), as well as his English-language work with designer Jack Lenore Larsen. Gerret Pieter Rouffaer, a Dutch researcher who studied Indonesian reserve-dyed fabrics, had coined the term "ikat" (from the Malay "mengikat," meaning "to tie" or "to entwine") in the early twentieth century to denote reserve-dyed fabrics. As the twentieth century progressed, ikat became fashionable, moving from traditional markets to haute couture and from there to high-street clothing stores.
As the twentieth century progressed, ikat became fashionable, moving from traditional markets to haute couture and from there to high-street clothing stores.
Global interest in Central Asian chapans and abr fabrics grew dramatically in the late 1980s and early 1990s. Following the collapse of the Soviet Union, individual shuttle traders helped to revitalize the export of antiques from Uzbekistan. Female "shuttle traders" brought antiquities from their regions to the markets of Istanbul and returned home with everyday goods purchased in Turkey.
According to Turkish collectors, the Istanbul market was most active in 1992-2004. This was a golden era for the formation of the largest private collections of Uzbek textiles. It was here, in the ruins of ancient Istanbul, that fans of abr silk from all over the world acquired the product. In parallel, dealers and intermediaries rushed from Turkey and other countries to Uzbekistan, literally devastating the markets of Bukhara, Samarkand, and other cities and villages. Ancient textiles were sometimes exchanged for factory goods: machine-made synthetic carpets, casual clothing, lurex scarves, etc. The export of ancient textiles was supplemented by a new wave of Jewish emigration: upon leaving Uzbekistan, they took their family valuables with them.
Even as the market soared and demand for abr fabrics from Uzbekistan grew, there remained an extreme lack of knowledge about them. This deficit was remedied to some degree by Kate Fitz Gibbon and Andrew Hale's Ikat: The Silks of Central Asia (1997). In the late 1980s and early 1990s, the West finally recognized abr fabrics as an undoubted artistic phenomenon. Often, in an effort to explain their uniqueness, parallels were drawn to abstract art, namely the canon-breaking transformations through which European painting went in the early twentieth century.
By the end of the 1990s, the Uzbek authorities recognized the need to introduce a ban on the export[1] of antiquities from the country. The 1998 law "On the Export and Import of Cultural Property" states that "cultural values are not subject to export from the Republic of Uzbekistan: those created fifty or more years ago; included by the state in the protected lists and registers." That is, textile items produced before 1948 and exported from Uzbekistan after 1998 are automatically considered smuggled.
We do not have reliable data on the scale of the export of antique textiles (including items of traditional clothing) from Uzbekistan after 1998, but it certainly continued at least along with the notorious "shuttle trade," active until the mid-2000s. Moreover, even if the flow of illegal exports has subsided, foreign markets are saturated with previously exported items. The process of forming collections and moving items from one collection to another is ongoing. The world market is full of Uzbek silk from the nineteenth and early twentieth centuries, primarily thanks to various auctions at which well-known collections or individual items are sold, allowing for the formation of new collections.
Notable Private Collections
What are the most famous private collections of Central Asian clothing—and particularly abr silk? The private collections of Tair Tairov and Alexander Klyachin, made up of purchases in Uzbekistan, have become widely known thanks to exhibitions in Moscow and the publication of catalogs. According to open Internet sources, Tairov began his collection in the 1980s, purchasing rarities at bazaars and from resellers. Klyachin likewise became interested in collecting in the late 1980s, when he visited Central Asia as a student of the Faculty of Geography at Moscow State University. Both not only bought antiques for themselves, but also acted as dealers. Thus, it was from Klyachin that such well-known collectors and donors in the United States as David and Elizabeth Reisbord purchased abr and other clothing from Uzbekistan.
In 2006, Tairov displayed part of his collection of embroideries at the Tashkent Gallery of Fine Arts of the National Bank of Uzbekistan (NBU) within the exhibition "Unknown Lokais," initiated by the art gallery "Caravan." His Moscow exhibitions, of which there have been at least 10, have also been very popular. They include: "Clouds Frozen on Silk" (State Museum of Fine Arts named after A.S. Pushkin, 2002); "Silk and Chintz: Dialogue of Cultures" (All-Russian Museum of Decorative, Applied and Folk Arts, 2014–2015); and "Silk Streets, Hanging Gardens: Objects of Textile Art of Central Asia from the Collection of Tair F. Tairov" (Central House of Artists, 2019). Select artifacts from his collection have been published in the catalog "Ikats of Turkestan from the Collection of Tair F. Tairov" (2002).
Klyachin's rarities were presented to lovers of antique textiles in the 2019 exhibition "East Jazz/East West Jazz," alongside works of abstract painting from the collection of Jean-Claude Gandur (Pushkin State Museum of Fine Arts, 2019).
In Turkey, the largest private collections were formed in the 1990s and belong to Mehmet Cetinkaya, Murat Megalli, and Umit Taftali, among others. Çetinkaya is a world-class trader who has been buying and selling carpets and other textiles since 1986. He first presented Uzbek ikat textiles in 1990, at the International Oriental Carpet Conference (ICOC) in San Francisco. In 1992, when ancient clothes from Uzbekistan began to appear in the markets of Istanbul, he became interested in collecting chapans.
With the emigration of Bukharan Jews, large collections of Uzbek artifacts, including abr textiles, appeared in Israel (the collection of Jor Mordechai [Ovdoni]) and Russia (Jewish Museum and Tolerance Center, Moscow, "Bukharan Jews: At the Crossroads of Civilizations" exhibition, 2023).
The largest American collections of Central Asian abr fabrics and clothing also began to form in the early 1990s. Chief among them is Guido Goldman's famous collection of Uzbek ikat, which he formed most actively in the mid-1990s. Shortly before his death, he divided this uniquely beautiful collection between 11 American museums. The largest donations were made to the Textile Museum at The George Washington University and to the Smithsonian's Sackler Gallery.
Chapans from Uzbekistan also feature in the collections of other Americans. One of the most striking is that of David and Elizabeth Reisbord, which was donated by its owners to the Los Angeles County Museum of Art (LACMA). Dr. Reisbord first visited Uzbekistan in 1992. Reflecting on that trip, he wrote later: "The Soviet Union had just collapsed, and everywhere on the streets of Bukhara, beautiful products made of ikat and suzani were being sold and hung on the walls. That was incredible." Reisbord later began purchasing abr textiles from dealers and other collectors around the world. Before the couple's donation to LACMA, the collection included 120 chapans and wall panels, as well as more than 20 suzanis.
The owner of another collection, Dr. David Paley, planned to donate some of his rarities to three American museums following a 2022 exhibition.[2] The owner of a fourth significant collection in the United States is Sheri Hunter, who has been captivated by Uzbek fabrics and chapans since her first trip to Uzbekistan in the early 1990s.
The list of famous foreign collections of abr textiles goes on. And as we admire them, it should be observed that this exported cultural heritage has become a global triumph for Central Asian chapans and fabrics, which have taken a victory march through museum halls, galleries, and the catwalks of leading fashion houses. Today, these delightful textile products, preserved in excellent condition thanks to the care of people who love them, act as ambassadors of Central Asian culture, telling the whole world about the amazing weavers who lived on Central Asian soil and created masterpieces of global significance.
Preserving Cultural Heritage
How should the heritage of abr fabrics, clothing, and other antique textiles be preserved in Uzbekistan? What is the correct way to store and exhibit them? How could more people be attracted to this traditional art and collections replenished? Here, the lessons learned from collecting, exhibiting, and studying Uzbek ikat and clothing abroad could be valuable.
It bears repeating that traditional Uzbek clothing and fabrics attract great interest around the world. In 2022-2023, the exhibition "Road to Samarkand: Wonders of Silk and Gold" at the Paris Institute of the Arab World, which presented samples exclusively from museum collections of Uzbekistan, was held with great success—and even attended jointly by French President Emmanuel Macron and Uzbek President Shavkat Mirziyoyev. Paradoxically, however, these same items are not displayed so impressively at home as to attract the massive flow of visitors they receive abroad; their potential is not fully exploited.
There is almost no tradition of making private collections in Uzbekistan. Indeed, the author knows of only one such collection, owned by Akbar Khakimov and available to view at his gallery, "Akbar House," in Bukhara. Yet it is private collections all over the world that serve to replenish museum collections by providing donations. Uzbek museums, meanwhile, must depend on very limited government assistance to acquire new items. As a result, the exhibitions are built on stock items acquired in the last century.
Ancient fabrics and clothing are scattered across various museums and are often stored in storage rooms. Storage conditions leave much to be desired; there are no cleaning standards. Moreover, there is no dedicated museum for silks or for traditional costumes. As a result, it is not possible to collect or exhibit items properly—and often we do not even know what is in museum collections, as it is difficult even for specialists to access them. In this regard, at a minimum, centralized digital cataloging of the traditional textiles and costumes in state collections is necessary. We must finally gain an understanding of how much of this unique heritage is held by Uzbek museums.
Modern masters often turn to the patterns of ancient fabrics, both creating copies and experimenting within the canon. Some of them have been able to gain worldwide fame, among them the Margilan weaver Rasuljon Mirzaakhmedov.
Conceptual artist Dilyara Kaipova has opened up a new world of Uzbek textile art with her original chapans, which, with stunning success, weave in the traditional abr style an array of globally recognizable symbols of mass culture: the logos of Captain America and Batman, Darth Vader's helmet, the Ghostface mask from the horror film "Scream," etc.
Read more: "Captain Ikat": Textile Fantasies of Dilyara Kaipova
But aside from these few exceptions, many modern market-sold handmade products have sparked criticism due to their low standard of color and decoration. Will modern abr silks become highly collectible in decades to come, or will only products from the "golden period" be in demand? This question—like those posed earlier in the article—calls for careful consideration and a thoughtful answer.
---
Cited and mentioned literature, sources:
1. Buhler, Alfred. Ikat Batik Plangi: Reservemusterungen auf Garnun Stoffus Vorderasien, Zentralasien, Südosteuropa und Nordafrica, Basel, Pharos-Verlag Hansrudolf Schwabe, 1972.
2. Fitz Gibbon, Kate, and Hale, Andrew. Ikat: Silks of Central Asia. Laurence King Pub, 1997.
3. Krody, S. B. Colors of the Oasis: Central Asian Ikats. The Textile Museum, 2010. 304 pp.
4. Larsen, Jack Lenor, with Buhler, Alfred. The Dyers Art: Ikat, Batik, Plangi, New York, Van Nostrand Reinhold, 1976.
5. Salleh, A. Robes and dresses: sartorial elegance of Central Asia // Book – album " Collection museum Islamic art Malaysia " series " Cultural heritage Uzbekistan ". Tashkent, 2022.
6. Umesh Charan Patnaik, Aswini Kumar Mishra 1997, 38; Ghosh 2000.
7. Vambery A. Essays on Central Asia. M., 1868.
8. Embroidery and carpets of Uzbekistan in foreign collections. Book-album of the "Cultural Heritage of Uzbekistan" series. Volume 4. Tashkent, 2020.
9. Gul E. The charm of Uzbek abr fabrics: collecting as a vocation // Book-album "Traditional clothing of Uzbekistan in private collections in Turkey" of the "Cultural Heritage of Uzbekistan" series (in print). Tashkent, 2023. Ss. 152–173.
10. Zhumaev K. Divine art. Be'er Sheva, 2017.
11. Law of the Republic of Uzbekistan on the export and import of cultural property https://lex.uz/docs/13906 Opened: 08/23/2023.
12. Ikats of Turkestan from the collection of Tair F. Tairov. Catalog. Authors of the text: Ermakova E., Makhkamova S. M., 2002.
13. How billionaire Alexander Klyachin became a collector of Central Asian robes // Tatler, October 1, 2019. https://www.tatler.ru/heroes/kak-milliarder-aleksandr-klyachin-stal-kollekcionerom-sredneaziatskih-halatov Opened 08.23.2023
14. Dreams of the East: Russian avant-garde and Bukhara silks. Exhibition catalogue. St. Petersburg, 2006.
15. Created in the sky: unique Uzbek textiles from a private collection // Sputnik Uzbekistan. https://uz.sputniknews.ru/20190307/Sozdannye-na-nebe-unikalnyy-uzbekskiy-tekstil-iz-chastnoy-kollektsii-10981045.html Opened 09/05/2023.
16. Tairov T. Bold aesthetics // Journal "Our Heritage", No. 115, 2015. http://www.nasledie-rus.ru/podshivka/11521.php Opened 08/23/2023.
17. Uzbekistan. Heirs of the Silk Road. Exhibition catalogue. Stuttgart, 1997.
18. Hale E. Woven impressions: abr fabrics from the Paley collection. Book-album "Cultural Heritage of Uzbekistan in Private Collections of the USA and Canada" of the "Cultural Heritage of Uzbekistan" series. Volume 31. Tashkent, 2020. pp. 286–303.
19. Chetinkaya M. Cultural heritage of Uzbekistan – abr fabrics // Book-album "Traditional clothing of Uzbekistan in private collections of Turkey" of the series "Cultural heritage of Uzbekistan" (in print). Tashkent, 2023. Ss. 34–49.
20. Esguerra K. Collection of Uzbek abr fabrics and suzani by David and Elizabeth Reisbord // Book-album "Cultural Heritage of Uzbekistan in Private Collections of the USA and Canada" of the "Cultural Heritage of Uzbekistan" series. Volume 31. Tashkent, 2020. pp. 136–159.
[1] The first law—"On the Export and Import of Cultural Property" No. 678-I—was signed on August 29, 1998. On March 23, 1999, the resolution of the Cabinet of Ministers of the Republic of Uzbekistan No. 131 "On Streamlining the Issues of Export and Import of Cultural Property in the Republic of Uzbekistan" was issued. On April 26, 2017, Resolution No. 245 of the Cabinet of Ministers of the Republic of Uzbekistan was issued.
[2] The author does not have further precise information.