The Gapar Aitiev Kyrgyz National Museum of Fine Arts has played a significant role in exploring and preserving the rich history of Kyrgyzstan's applied and fine arts for nearly a century.
The unique museum collection represents the work of generations of artisans, artists, and curators. They have created, preserved, and popularized Kyrgyz design, handicrafts, and artworks locally, regionally, and internationally.
Mira Djangaracheva said she resigned as director of the national arts museum on December 2 after receiving death threats from supporters of right-wing nationalist movement Kyrk-Choro who saw a recent art exhibition on women issues offensive to traditional Kyrgyz values. They threatened "to tear me apart, to rape me", said Djangaracheva, a former deputy prime minister, adding that she had asked police to investigate the threats. "This is a bad sign … Radicals want to run the museum, the ministry, the state policy on culture." New York Times
http://knmii.kg/
Mira Djangaraсheva, ex-director of the museum, Aigul Mambetkazieva, chief conservator, and Chinara Daniyarova, conservator, tell the museum story and describe some of the museum exhibits.
The Gapar Aitiev Kyrgyz National Museum of Fine Arts traces its origins to a small picture gallery that was opened by the Kyrgyz regional committee of the All-Union Communist Party of Bolsheviks in 1934. The Soviet project aimed to promote Kyrgyz art and encourage traditional handicraft. This ambitious task was first led by the Soviet artist Semyon Chuikov and resulted in the current collection of more than 18,000 exhibits that are currently displayed in the museum across its various sections, including paintings, graphics, sculptures, and decorative and applied art.
The first artistic canvases were donated from the funds of the State Tretyakov Gallery and the People's Commissariat of Education of the Russian Federation. Very soon, the museum's collection was enriched with the works of Kyrgyz artists. The unique ethnographic collection of the museum was officially founded in 1967. The museum was further developed in the 40s and 50s when the State Tretyakov Gallery, the Hermitage, and the State Museum of Oriental Art all presented exhibits. Later, the collection was replenished thanks to ethnographic expeditions to all regions of the republic. Today, there are about 3,000 ethnographic exhibits in the museum.
Among them are felt items, felt carpets (shyrdak and ala-kiyiz), wood and leather utensils, woven palaces (terme taar, bashtyk, kurjun), embroidered wall panels (tush kiyiz), various articles of clothing, silver bracelets (bilerik), earrings (soyko) and braid jewelry (chach-ushtuk), equestrian equipment (terdik, tokum, djolpoch) and many others. Most of the exhibits date back to the 20th century.
The oldest museum artifact dates back to the end of 19th century: a jewelry piece made of silver, enamel and corals. Other unique items include clothing samples that date back to the beginning of the 20th century, such as men's suede trousers decorated with rich embroidery, as well as a woman's embroidered skirt (beldemchi) and a woman's headgear (kep-takyya). The most modern museum exhibit is a felt floor carpet from the late 1980s, made using the application technique.
Let's consider in detail some of the museum exhibits
Beldemchi – a married woman's skirt
The first quarter of the 20th century. Velvet, fur, silk embroidery. Artisan Imakan Kanetova, Min-Bulak village, Issyk-Kul region
Brought from an expedition in 1969. The skirt has a wide quilted, felt-duplicated belt, which serves as a kind of corset and insulation for the back.
Shym – a man's leather pants or riding breeches
The mid 20th century. Leather, silk embroidery, floral ornament, Tyupsky district, Issyk-Kul region
Similar leather pants were in use in the territory of modern Kazakhstan and Uzbekistan.
Kep-takyya – a detail of a woman's headgear
First third of the 20th century. Fabric, silk embroidery, metal, coral. Sovetskiy district, Osh region
Brought from an expedition in 1978.
This type of headgear was used only in the Southern Kyrgyzstan and accompanied with a turban (elechek) and an embroidered scarf (duriya). Richly decorated garments were used for weddings or festive events.
Ala-kiyiz – a felt carpet
Mid-20th century. Wool, felting. Artisan Naaman Etalieva, Tyupsky district, Sary-Bulak, Issyk-Kul region
A carpet brought from an expedition in 1968. An ornament lined with colored yarn was pilled into the main layer of felt pattern.
Tush-kiyiz – an embroidered wall panel
The first quarter of the 20th century. Velvet, silk thread embroidery, satin. Artisan Altynai Aralbayeva, Chuisky district, Frunze (Bishkek)
Obtained in 1967. Wall carpets have a traditional structure: a three-way embroidered border with one, two, or three outshoots on the horizontal part, called 'tumar.' The central part is made of fabric, most often of velvet or plush.
Chach-ushtuk – a braid jewelry
The first third of the 20th century. Silver, coral, cotton thread, plastic, glass. Alamedinsky district, Vorontsovka village
Obtained in 1981 from the Chui region.
Kookor – a bottle for kumys (a fermented dairy product traditionally made from mare's milk)
Embossed leather, early 20th century. Issyk-Kul region
Obtained in 1993. The decor is applied by pressing, and the ornament is usually cosmogonical or sacral. Such tableware is convenient for transportation as it does not break during migrations.
Chavadan – a transport bag
The first third of the 20th century. Wool, pile weaving. Frunzensky district, Okhna village, Osh region
Brought from an expedition in 1968. It usually consists of two parts; the front part of the chavadan was richly embroidered, and the back part was made of dense fabric or burlap.
Ayak kap – a bag for transportation of small household items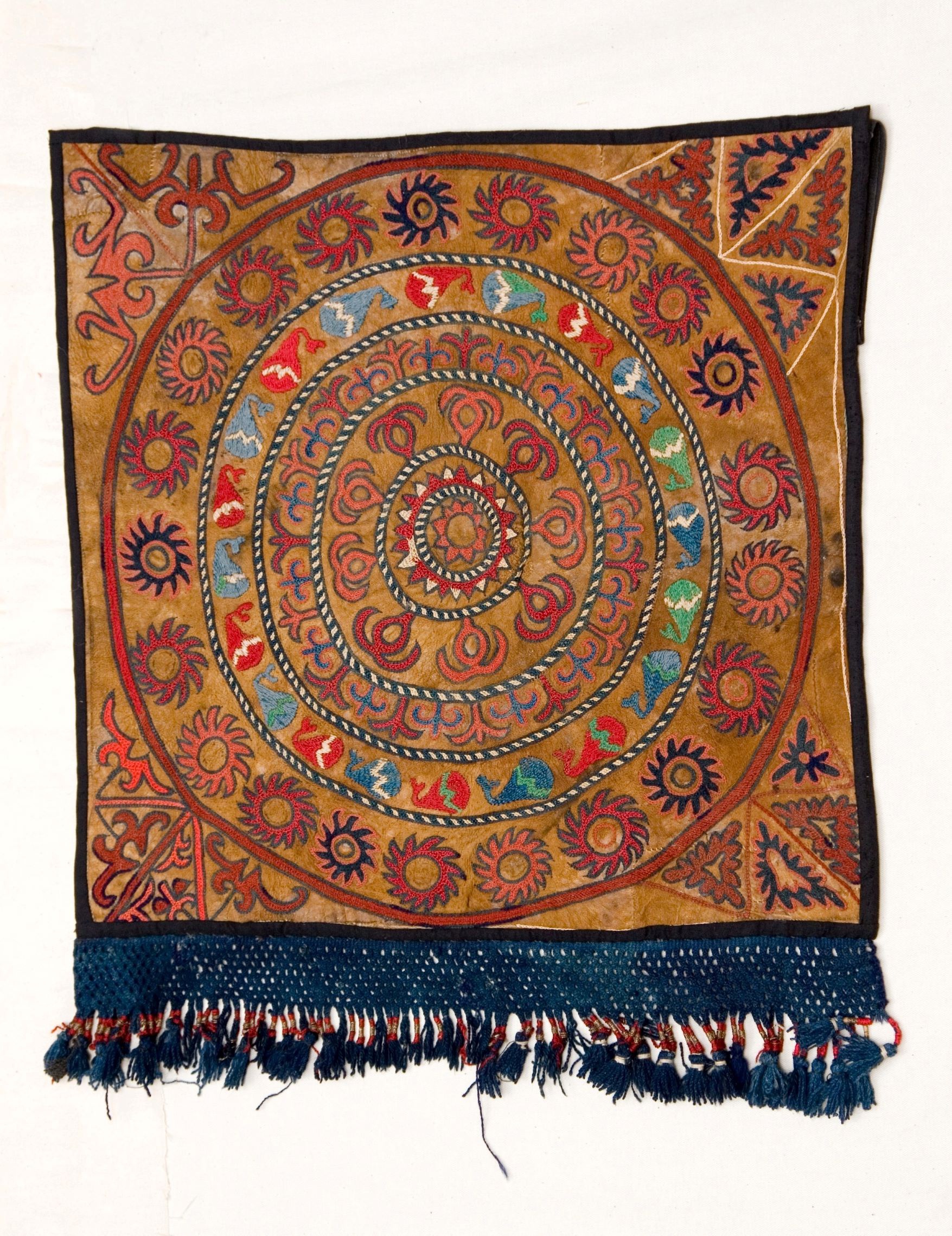 Early 20th century. Leather, satin, silk, wool and metal thread embroidery, weaving tassels. Artisan Saadagul Mademinova, Southern Kyrgyzstan
Obtained in the 1980s. Floral and animal ornaments. The bottom part of the product is decorated with weaving and silk thread tassels. This bag was a necessary part of nomadic life. The dishes and kitchen utensils were transported in these bags during migrations.
Chach-ushtuk – a braid jewelry
The first third of 20th century. Silver and carnelian. Jeti-Oguz district, Tamga village, Issyk-Kul region.
Chach-ushtuk with floral ornament. Silver and corals. Obtained in the Issyk-Kul region in 1979.
Filigree, forging, bending.
Chach-ushtuk – a braid jewelry
The first third of the 20th century. Silver, chach-ushtuk with floral ornament
At-Bashynskiy district, Naryn region. Obtained in 1967. Stamping, embossing, bending.
Soiko – a temple pendant jewelry
End of the 19th century. Silver, coral, enamel. Besheke village, Tchuy region
Soiko jewelry is attached to headgear (eletchek) through granulation, stamping, and bending.
---
All photos from the collection of the Gapar Aitiev Kyrgyz National Museum of Fine Arts, Bishkek