To most young Kazakhs, the films of Shaken Aimanov are unknown. Many have never even heard his name. Even Aimanov's greatest hits – Our Dear Doctor (1957) and The End of the Ataman (1970) – mean little to a generation that has grown up with computer-generated images and video clips. Quite the opposite is true for their parents and grandparents: in the 1950s and 1960s, Aimanov's name was synonymous with Kazakhstani national cinema. But why should today's youth care?
Author: Peter Rollberg
Peter Rollberg is Professor of Slavic Languages, Film Studies, and International Affairs and Director of the Institute for European, Russian, and Eurasian Studies (IERES) at George Washington University. Rollberg studied at Lomonosov University in Moscow and at the University of Leipzig where he earned his Ph.D. in 1988. He came to GWU in 1991 after teaching at Duke University. His main field of expertise is Russian literature and film, as well as Georgian and Kazakh cinema. His publications include articles in Russian, English, and German on Pushkin, Dostoevskii, Tolstoi, Bulgakov, and filmmakers such as Yakov Protazanov and Sergei Bondarchuk. In 1996, Rollberg published volume 10 of The Modern Encyclopedia of East Slavic, Baltic, and Eurasian Literatures (Academic International Press) and in 1997, a festschrift in honor of Charles Moser, entitled And Meaning for a Life Entire. His Historical Dictionary of Russian and Soviet Cinema was published in 2009 (second, enlarged edition 2016). In 2018, Rollberg coedited the volume Mass Media in the Post-Soviet World (with Marlene Laruelle).
"The Viewer Has the Last Word"
Unfortunately, Aimanov has increasingly become a monument, relevant to film historians but much less so to the millions of viewers who approach cinema as consumers entitled to quick and convenient entertainment. These viewers would no doubt be surprised to learn that Shaken Aimanov himself agreed with their approach to cinema. To him, films that failed to reach mass audiences lacked purpose and legitimacy. Such failures happened to Aimanov several times, most traumatically in 1966, when Land of the Fathers, the best of all his pictures in artistic terms, was met with a rather lukewarm reception and attracted a mere six million viewers (whereas his comedies and action films were watched by tens of millions). He expressed his frustration in no uncertain terms in an article in the newspaper Soviet Culture titled "The Viewer Has the Last Word." Setting the standard for what a Kazakh film must do to be considered successful, Aimanov wrote that his own Our Dear Doctor from more than a decade earlier retained a presence on Kazakhstan's screens for years afterward and attracted over 50 million viewers nationwide. In addition, it was sold to 40 countries! Land of the Fathers did not even come close to such smashing success.
"And I would like to believe that we were able to convey the main idea of the film: that the fatherland is not that narrow piece of land on which one is born, grew up, and aged. Fatherland – that's our entire country, from the Baltic Sea to Cape Dezhnev, from the Barents Sea to the heights of the Pamirs. Grandfather and grandson, searching for the grave of a soldier who died in the battles of the Great Patriotic War, acquired a fatherland – the very fatherland for which their son and father had died."
Aimanov called the failure of Land of the Fathers to connect with viewers a catastrophe (beda). The State Prize of the Kazakh SSR that he won for the film in 1968 could not change that reality, as he himself openly stated. In the article, Aimanov searched for an explanation for the lack of a popular response to his latest work, identifying several possible factors: "In some respects, the film is visually poor, boring. The passions are at times hidden so deeply that the viewer cannot see them: they remain outside the frame. Perhaps we have found some new approaches, but this novelty gives the viewer hardly anything."
Aimanov was never able to fully realize his potential as a filmmaker; tragically, he lost his life in a traffic accident in Moscow on December 23, 1970. His sudden death brought a halt to many promising developments in Kazakhstani cinema. Looking back at his career it is astonishing how multifaceted his talent was. Aimanov worked in almost all genres: musical, revolutionary action film, legend, contemporary drama, elegy, and comedy. In addition to his creative endeavors, he was the First Secretary of the Union of Kazakhstani Film Workers, in which capacity he helped numerous colleagues, promoted the national film studio, and defended Kazakh cinema against outside interference. To fully understand the impact of his work on Kazakhstani cinema, one must take a closer look at the epoch in which it all began.
Origins
Shaken Aimanov was born on February 15, 1914 in Bayanaul, in the Pavlodar region in Eastern Kazkahstan, near the river Irtysh. As a student in Semipalatinsk in the early 1930s, his goal was to become a teacher, but he, along with other gifted young laymen artists, was invited by theater activists Gabit Musrepov and Kalibek Kuanyshpaev to join their troupe. These enthusiastic performers would form the core of the Kazakh National Theater, of which Aimanov would become one of the leaders, both as an actor and a director.
Initially, cinema was of marginal interest for Aimanov. This is understandable, given the state of film in Kazakhstan in the 1930s and 1940s, when visiting directors from Leningrad and Moscow used the local talent and landscapes to shoot movies on officially assigned topics. Although these films paid some attention to the Kazakhstani atmosphere, Kazakh film artists were long treated as junior partners. Aimanov appeared in a minute role in Amangeldy (1938) and in a supporting role as the treacherous bureaucrat in Raikhan (1940). His first lead was as the officer in the medium-length TsOKS comedy The White Rose (1943), but the film was withdrawn from screens shortly after its release. Only when Grigorii Roshal' cast Aimanov as the traitor Sharip in the biopic The Songs of Abai (1945) did viewers and critics take notice, thanks to the unusual complexity of his portrayal. His next on-screen role was the lead in Efim Aron's The Golden Horn (1948), a largely formulaic movie about Soviet genetics and its application to Kazakhstan's economy – alas, not even Aimanov's energy could bring that ideological construct to life. Just a few years later, however, came a genuine highlight in his career as a film actor: his portrayal of Kazakhstan's national akyn in Zhambyl (aka Dzhambul, 1952), a biopic directed by Efim Dzigan, that showed the title hero from youth to old age.
Nevertheless, Aimanov's greatest accomplishments to that point were his celebrated Shakespeare interpretations at the Kazakh National Theater. Whether in comedy or tragedy, as Petruchio or as Othello, his abundance of transformative power imbued each new role with a vitality that made these performances groundbreaking events in Kazakhstani culture. Thus, many contemporaries could not understand why, at the pinnacle of his theatrical success, Aimanov decided to abandon the stage and devote himself to film direction. A novice without any formal education in this field, he learned from practical experience, beginning as a co-director.
The Beginning: Poem About Love
When, in the early 1950s, Shaken Aimanov decided to abandon the stage and devote himself entirely to cinema, his radical step raised eyebrows: nothing in the short history of Kazakhstani film suggested much potential that could attract an established mime whose theater career had been outstanding, while his appearances on screen were often unsatisfying, as he himself was the first to admit. Was Aimanov motivated by the realization that Kazakhstan would never see its own genuine national cinema art if it had to rely on non-Kazakh artists forever? Was he frustrated by acting in other people's films, the faults of which he clearly recognized?
Whatever the case may be, Aimanov, a man in his late thirties, brought unprecedented energy and an abundance of ideas to Kazakh cinema, creating a multifaceted oeuvre, a fair and detailed assessment of which is still wanting. Although his directorial career lasted only seventeen years, the long-term effects of his decision to devote himself to film direction shaped Kazakhstani cinema for decades.
Aimanov's first directorial project was Poem About Love (Maxxabat turaly dastan/Poema o liubvi, 1953), a historical drama based on a Kazakh Romeo and Juliet that had been successfully adapted for the stage. The acclaimed theater production was the source of the movie, and in many ways it shows: Poem About Love is a work of transition. From the beginning, Aimanov reveals his film's theatrical origins with utmost candor – the credits state that the following is an adaptation of a stage production of Kozy Korpesh and Baian Slu at the National Kazakh Theater, directed by Moisei Goldblatt in 1953.
As the two halves of a transparent silken curtain open, a stage-like decoration appears, showing two yurts and an old man delivering a monologue. The man is the rich and stingy Karabai (Serke Kozhamkulov), who is worried about the impending marriage of his beautiful daughter, Baian. Inside one of the yurts, two women talk to him about Kozy, a young man to whom Baian was promised when both were children. Then, a group of horsemen appears. The group's leader is Kodar (Nurmukhan Zhanturin), a fierce warrior who wants Baian for himself. Baian, too, is surrounded by a group, but of girls – the female and the male cohorts engage in sometimes witty, sometimes serious verbal exchanges. Meanwhile, Kozy is hunting in the mountains, where a chance encounter with Baian takes place – both are struck by the realization that they are strongly attracted to each other. Learning about the promise made seventeen years earlier by their fathers seals their fate: not only are they meant for each other by tradition, but they are also in love. Yet Kodar and his evil advisor do everything in their power to undermine the sacred vow. In addition, after his father's death, poor Kozy is no real match for the wealthy Baian. Kodar and his men meet Kozy and his friends in the steppe and challenge them to a fight; Kozy wins and takes his tied-up rival to his beloved's yurt. Later, however, when Kodar and Kozy fight again, the resentful Kodar repays Kozy's magnanimity by stabbing him in the back.
On the outside, Gabit Musrepov's play puts strong emphasis on the story's class aspect: Kozy represents the strong and noble underdog, while Baian's father, Karabai, and Kodar stand for the wealthy establishment. However, this modern, quasi-Soviet reading of the legend can only go so far: the law of the steppe was valid for both rich and poor, and the vow made at one point between Kozy's and Baian's fathers can be invalidated neither on a whim nor for economic considerations. Furthermore, for the jealous Kodar, it is not so much the lower status of his rival that drives him to commit a heinous crime, but his own inability to accept fate and the mutual love of others. His aggressiveness is a character flaw rather than a symptom of his class status.
However, conspicuously, both rich and poor characters support Baian and Kozy in their pursuit of love. Thus, the story's class dimension ultimately proves to be secondary. The lovers' tragedy is caused by human selfishness and male pride that cannot acquiesce to the inevitable. This became a recurring motif in Kazakhstani cinema: the betrayal of traditional rules and the fundamental envy that marks the inability or unwillingness of some individuals to tolerate the happiness of others. The motif would reappear in later groundbreaking works of Kazakh cinema such as Sultan Khodzhikov's Kyz-Zhibek (1971) and Akan Sataev's Zhaurzhurek Myn Bala (2011). It is noteworthy that class aspects are largely irrelevant to both of those later pictures.
Ever since Poem About Love was released to film theaters, film critics and historians have derided it for its theatricality. This is a rather convenient criticism that fails to take into account the historical situation in which the film was made. In defense of Poem About Love, it must be said that adaptations of theater productions – so-called performance films (fil'm-spektakl') – were a respected and popular genre in the USSR in the early 1950s. Produced quickly and economically, they were featuring top stage performers, many of whom rarely appeared on screen, and brought high-caliber theater art to all corners of the country. These arguments apply to Poem About Love, too. Film historians also overlooked the fact that many segments of Aimanov's film were not theatrical at all. A number of episodes were filmed in the Kazakhstani steppe, showing large herds of horses caught in dusty winds against a backdrop of majestic mountains. The first duel between Kozy and Kodar, fought with lancets on horseback, was filmed entirely on location. Mikhail Aranyshev's camera works miracles, delivering the crisply accentuated nature shots that became his trademark and skillfully using the entire range of shot types, especially extreme long shots and close-ups. In several episodes of Poem About Love, the artificiality of the decoration is suddenly interrupted by a realistic location shot. For example, in the beginning, a group of horsemen is approaching the aul in a location shot – and entering the set in the following studio shot. Such transitions from living nature to artificial construction positively define the film's style. As a matter of fact, this alternation between internal studio scenes with static stage lighting and external extreme long shots is one of the most aesthetically productive elements of Poem About Love, one that keeps the picture alive to this day and makes it not only watchable but enjoyable.
It is ahistorical to point to the studio scenes as symptomatic of Kazakh filmmakers' lack of experience. After all, even many Hollywood films of the early 1950s were shot partly or entirely in the studio and betray the artificiality of decorations every step of the way. Stylistic conventions during the 1950s made filming in studio conditions acceptable to viewers, while producers appreciated the fact that it was less expensive and risky than location shooting. The one element that is indeed questionable and reflects negatively on the film is the predominant acting style: in almost all scenes, it is declarative, excessively controlled, and distinctly uncinematic. As a result, the emotional effect of this heartbreaking love story remains limited.
For Shaken Aimanov, one of the all-time stars of Kazakh theater, Poem About Love was not just his debut as a filmmaker, but a labor of transition in his artistic evolution, a work synthesizing features of theater and cinema. True, these features often coexist in his film and are not always in agreement. But the criticism that Aimanov's first attempt at film direction reflected the "learning process" he was undergoing, while the chosen genre of performance film was an expression of the Alma-Ata studio's lack of resources is unfair and misplaced. As a matter of fact, all of Aimanov's subsequent pictures contain episodes whose studio character and theatrical features are hard to deny, revealing either its maker's pedigree – or his preference for clearly organized mise-en-scènes that allow for a fuller appreciation of the performers' artistry. Poem About Love remains a worthwhile film, and not merely for historical reasons. Its capturing of the steppe atmosphere as an active space for an eternal love story is exemplary and certainly prepared the ground for later Kazakh pictures such as Kyz-Zhibek.
A Revolutionary Epic
In his second project, Aimanov was able to show the full range of his ambitions as a filmmaker. Daughter of the Steppes (Doch' stepei, 1954) became one of his best pictures, although it contains transitory elements as did his debut. Its wide historical range and diverse set of characters suggests that Aimanov's goal was to create an epic, a large-scale production reflecting Kazakhstan's development from the 1920s to the 1950s through the eyes of one character. Aimanov again worked with Karl Gakkel as co-director; the screenplay was written by Roman Fatuev. The plot resembles Raikhan from fifteen years earlier, as Daughter of the Steppes focuses on a female character whose individual biography reflects the evolution of the Kazakh nation.
The opening episode shows a conflict illustrating the lawlessness of pre-communist Kazakhstan with regards to women. The rich Aktambai (Eleubai Umurzakov), fearing the approaching Bolsheviks, attempts to smuggle his huge herds across the country's border. But only the poor shepherd Molbagar knows the secret paths across the mountains to China. To secure Molbagar's goodwill, Aktambai gives him the teenage Nurzhamal as a wife, ignoring the girl's fierce resistance. The decent Molbagar feels sorry for the orphan and allows her to leave. She departs on horseback and manages to reach a Bolshevik community.
While the first episode reveals the degree to which Aimanov learned to adjust pacing, the characterizations remain politically and psychologically schematic. To be sure, the film is directed with dramatic verve, but the characters are depicted in accordance with their position in the officially confirmed class configuration. Both experienced performers such as Umurzakov and newcomers such as the young Zamzagul Sharipova (in the title role) visibly struggle with the stock nature of their roles. However, the schematic acting is compensated for by Mikhail Aranyshev's camera work, which blends majestic vistas of the steppe with dynamic dolly shots in more intimate settings. Evgenii Brusilovskii's tunes convey a sense of authentic Kazakh tradition. Images and music thus act as counterweights to the ideological dryness of the film's underlying conception of 20th-century Kazakh history.
After her liberation from the patriarchal yoke, Nurzhamal embarks on a medical career. A Russian doctor who saved Nurzhamal's life during her escape encourages the native young woman to study with her in Alma-Ata. Nurzhamal turns out to be an excellent medical student, respected and liked by all. Her only problem is the pushiness of Kerim (Nurmukhan Zhanturin), an arrogant peer who uses shameless deceit in an effort to win her heart and ward off the truly decent Murad, whom she loves. However, Nurzhamal decides to put her personal problems on the back burner and quickly grows as a professional. Her ideological firmness becomes obvious when the ambitious Kerim talks about the need to "pursue one's career" (kar'era) and she angrily responds, "I cannot stand that word. It's not our word." Indeed, Nurzhamal herself bases her decisions primarily on societal needs and picks a provincial hospital for her first deployment.
Of special significance in Daughter of the Steppes is the guiding function of the Russian characters. Nurzhamal's first encounter with a Russian, the physician Liubov' Petrovna, takes place in a communist settlement. Everybody greets the Russian woman as "comrade doctor," and someone explains, "These people have come from far away to teach us literacy; they were sent by the Soviet government." But the Russian mission goes further than that – they are missionaries preaching the new communist values, including the equality of the sexes. This is the main theme of a lecture to which only women are admitted. Indeed, the motif of female emancipation is primary among the film's explicit ideological messages. A secondary motif deals with native Kazakh-Soviet science as opposed to foreign sources that must be treated with distrust. Not coincidentally, the arrogant Kerim constantly quotes from Western articles, whereas Nurzhamal refers to the 19th-century Russian surgeon Pirogov as the decisive authority. Such motifs are late echoes of the 1940s campaign against cosmopolitanism; one may assume that the change of priorities in culture and science after Stalin's death had not yet made its full impact.
Another secondary motif deals with alternative healing methods, a rare topic in Soviet cinema. Early on, Nurzhamal expresses an interest in herbal medicine. In Daughter of the Steppes, herbal healing signifies an organic connection between the intelligentsia and ordinary people, respect for national tradition, and skepticism toward Western-style modernity that values technology as an end in itself – at the expense of what is simple, efficient, and natural. However, Nurzhamal's strong case for herbal healing notwithstanding, the film takes a stance against other ancient methods such as witchcraft, illustrating its negative consequences in a drastic episode, in which superstition results in the death of a child.
It is easy to recognize remnants of Stalinist cinema in Aimanov's second film. While portraits of Stalin are much rarer than in films of the 1940s and verbal references to the late leader are completely absent, several conflicts are obviously connected with the previous historical epoch. However, despite certain embellishments and ideological bias that do belong to the 1940s, the central plotline of a previously enslaved girl whom the new society gives a chance to activate her professional potential and gain recognition is far from falsehood, and the tragedies that doctor Nurzhamal Bulatova has to go through – including the death of a little girl for whom her treatment comes too late, as well as the death of her husband Murad in World War II – are believable. For all her awe of her Russian teachers, the film's title character embodies a feminine strength and endurance that are deeply Kazakh. Nurzhamal's personality and love for her native land are related to Raikhan from the 1940 picture. Her social advance can be compared to the Russian-Soviet female characters of Vera Maretskaia and Tamara Makarova. Just like them, she addresses the audience directly in a concluding shot, saying emphatically, "You are our hope, you are our future."
The association of female emancipation with national modernization became a mainstay of Soviet cinema, especially in the national film cultures of Central Asia. Daughter of the Steppes occupies a worthy place among those films, despite its undeniable historical limitations. It also proved Shaken Aimanov's ability to helm a major picture with numerous complicated episodes and a multifaceted cast. Whether deliberately or unconsciously, Aimanov had followed Auezov's advice from a film conference held in 1945: his first picture drew on national folklore directly, while the second conveyed contemporary sociopolitical concepts about the path of the Kazakh nation in the 20th century, yet also contained deep mythological layers.
A Kazakh Perspective on Tselina
Aimanov's third feature dealt with the Virgin Land campaign (tselina) and was released under the title We Live Here (My zdes' zhivem). The screenplay was written by Vladimir Abyzov and Shakhmet Husainov, with additional input from the accomplished Mikhail Bleiman. The film premiered in November 1956 in Alma-Ata and, in a dubbed version, in March 1957 in Moscow.
The title has a polemical sound to it – or at least an ambiguous ring. At first, We Live Here simply seems to allude to the fact that the millions of acres of untilled land in Kazakhstan that were cultivated at an unprecedented rate during the tselina campaign were sparsely inhabited, and that a major problem facing the Soviet administration was the creation of minimally acceptable living conditions for tens of thousands of people who were supposed to not only cultivate these "virgin lands," but stay and make their homes there. The finale of Aimanov's film seems to confirm this interpretation with unequivocal clarity: after the resolution of all major conflicts, the members of a Komsomol brigade greet the arriving busloads of newcomers from various cities – "Leningrad, Pskov, Stalingrad [not yet renamed – P.R.], Voroshilovgrad." When the newcomers ask, "And where are you from?" one of the brigade members states, "We are from Komsomolskii settlement – we live here." In other words, the film concludes with an affirmative statement of belonging to this land: the "conquerors" of these territories, the so-called tselinniki, have turned them into their home for good.
However, the title can also be interpreted as referring to those native Kazakhs who already live on these territories and have lived in their villages for centuries. Taken this way, the title would sound like: "It is us who live here!" In other words, rather than turning "virgin land" into "native land" in one fell swoop, the emphasis would be on the rights of those who have considered this their homeland since time immemorial. Given Aimanov's lifelong loyalty to the communist cause and to the Party of which he was a member, such an outright political provocation may be hard to imagine. But the choice of an ambiguous title is certainly thought-provoking, especially since conflicts between natives and newcomers do shape the major plotlines in We Live Here. Based on numerous statements one can safely assume that Aimanov did not want to see his Kazakh homeland represented as a neutral, denationalized territory. Therefore, the semantic ambiguity of the title could plausibly have been intentional. In light of a statement made ten years later, a subversive interpretation makes sense.
In a 1965 article for the journal Iskusstvo kino, Aimanov discussed the "virgin land" theme from a national point of view, asking polemically:
Did the cattle-breeding Kazakhs not roam for centuries the lands where new sovkhozes were built? Did the local population not welcome the youths from other places who came to Kazakhstan following the call of the Party? Were the Kazakhs in the Virgin Lands Campaign nothing but outside observers? And how was all this reflected in cinema?
Applying these questions to his own 1956 picture, Aimanov has nothing to be ashamed of: he did address the ethnic and cultural shifts that the influx of hundreds of thousands of new inhabitants brought to his Kazakh homeland. Indeed, completely new is the representation of Kazakhstan and its people as indispensable and nationally distinct partners in this process, confirming the intentionality of the title's semantic ambiguity. Indeed, in We Live Here, the sensitive ethnic issue is not covered up but addressed head-on. One of the brigade members, Khalida (Lola Abdukarimova), falls in love with the Russian Sergei. Both want to get married as soon as possible, but Khalida is afraid of her parents' conservative views. And indeed, her mother argues against marrying a man "who is not of our faith and does not speak our language." In the end, however, it is Khalida's father who persuades his wife to attend the wedding and to endorse the interethnic marriage, after which the converted wife insists on the newlyweds' moving into their house – as tradition demands. The scenes involving Khalida's mother are among the most intriguing in the film, as they touch upon a subject that heretofore had been eitherlargely taboo or thoroughly politicized in Soviet cinema. Had the issue of interethnic relations been shown as a problem in a film in the 1930s or 1940s, views such as the mother's would have been ridiculed and denounced as reactionary or "enemy propaganda" that had to be aggressively confronted and eliminated. In Aimanov's treatment, however, mutual understanding and acceptance win the day, and a compromise is shown to be possible and desirable.
The film's narration is fast-paced from beginning to end, with very few lyrical interludes. Thematically, Aimanov's primary focus is the disagreements between those administrators who rule by bureaucratic decree and those who pursue realistic goals, always keeping in mind the wellbeing of the workers entrusted to them. The former type is represented by Kuanysh Korkutov (Idris Nogaibaev), a man in charge of a consortium of new sovkhozes, and the latter by Il'ia Kudriash (Konstantin Bartashevich), the director of one such sovkhoz, named "Komsomol'skii". Kudriash, a Ukrainian, is a transitory leadership figure with both authoritarian and democratic features. He often takes decisions on a whim and is generally difficult to get along with Yet, when it comes to his workers, he defends their interests, grants them higher salaries to keep them on the project, and gives his all to organizing modestly civilized living conditions. Korkutov, who is Kazakh, is authoritarian, too, but, unlike Kudriash, he rejects any common- sense arguments and badmouthes those who disobey his orders to the higher-ups.
Shaken Aimanov himself plays the role of a regional administrator, Beisov, an open-minded man who sees through Korkutov's schemes and encourages Kudriash's pursuit of pragmatic solutions. The juxtaposition of "good" and "bad" managerial methods was typical of Soviet cinema, both during the Stalinist period and thereafter. What is unusual in We Live Here is that the supervisors side with the democratic administrator, not the authoritarian schemer. These conflicts are not just expressed through statements – they are psychologically motivated. Aimanov succeeds in establishing plausible links between individual personalities and their management style. It turns out that Korkutov not only informs on those who disagree with him, but he also abandoned his girlfriend when she was pregnant – a behavior that not even his doting parents can forgive. The explicit critique of this type of opportunism marks the film as a product of the evolving Thaw period with its call for honesty and integrity.
To be sure, We Live Here does contain elements of the virgin lands romanticism that was so fashionable in Soviet literature and cinema in the mid-1950s, but Aimanov did not indulge in them. There are visual tselina clichés such as spectacular sunrises in the steppe that bathe the workers' physical hardships in romantic light. However, unlike other tselina films, the exotic, adventurous aspects remain secondary. After all, why should a Kazakh wonder about the climatic conditions in his native steppe? Rather, Aimanov shows the cultivation of new land to be a trying but normal civilizational process that, when handled responsibly, will benefit everybody involved. Thus, it is not so much the economic goal that defines the director's vision as the wellbeing of the participants – those who arrive in Kazakhstan and those who already live there. This communist humanism is likewise a sign of Thaw sensitivities.
The film's main weakness, however, was never addressed, perhaps because it is more aesthetic than thematic: the narrative pace is excessive and inconsistent to the point of causing confusion. We Live Here consists of numerous snippet-like episodes that are in desperate need of more screen time to give the characters a chance to evolve. The relatively large cast can sometimes be disorienting to the viewer, too, as the distinction between primary and secondary characters is insufficiently marked. This impression may have been intentional – perhaps Aimanov wanted to create an image of cheerful collectivism, presenting a community of equals and rejecting identification with just one or two major characters. This would be justified insofar as the "Virgin Lands" project did rely on large-scale collective efforts. But the mini-portraits of various characters move by too fast for the viewer to appreciate, and many scenes end too abruptly to be fully grasped. Had We Live Here been given the regular 90 minutes running time instead of its actual 70 minutes, the performers would have had a greater chance to engrave themselves in spectators' minds. This might also have prevented the impression of overly fast conflict resolutions to which Siranov objected. Thus, Aimanov's third film, and the first dealing with contemporary issues became an innovative, albeit narratively problematic experiment. However, despite its shortcomings, it stands as a worthwhile Kazakh response to an unspecific Russian-Soviet view of a joint socioeconomic experience. As such, We Live Here reveals the existence of a yearning for the expression of national identity on the legitimacy of which Aimanov self-confidently insisted, regardless of its Soviet framework.
Finally, a Blockbuster
In 1957, Shaken Aimanov responded to the smashing success of the first Kazakh comedy, The Djigit Girl (1955), with a comedy of his own, Our Dear Doctor (Nash milyi doctor, 1957), with which he finally turned out the all-Soviet hit that he so desired – the first of his career. The title hero, Doctor Lavrov (Iurii Pomerantsev), works tirelessly for his patients in a beautiful spa, "The Mountain Rose," located near Alma-Ata. When the popular doctor's sixtieth birthday approaches, some of his supervisees decide to organize a concert in his honor. However, the bureaucrat Filkin (Evgenii Diordiev) refuses to release the necessary funds. The loyal Bibigul, responsible for culture and entertainment, therefore engages numerous prominent artists who agree to sing free of charge. After some confusion about the exact date of the concert, all the participants arrive on time and present their artistic gifts to the beloved physician.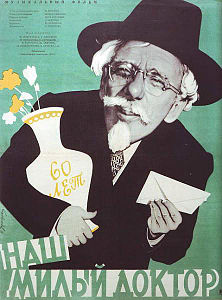 Conscious of genre like few other Soviet directors, Aimanov decided to lay bare the revue character of his story from the very beginning, not even pretending to have a realistic plotline that would somehow justify the characters' constant singing. To be sure, neither The Djigit Girl nor Our Dear Doctor are musicals. The songs in the former are not important enough to the evolution of the plot, while those in the latter are too stylistically diverse to justify such a designation. However, both films are built on the assumption that viewers – especially Kazakhs, with their known passion for music and performance – would accept the artificiality of the situation and refrain from critically applying criteria of verisimilitude to deliberately semi-realistic entertainment. This assumption turned out to be accurate: of all of Aimanov's films, Our Dear Doctor has remained the most loved in Kazakhstan.
Our Dear Doctor was conceived as a crowd pleaser. The scenery is picturesque, the colors are bright, and the mood stays optimistic throughout. In a move that would have been risqué in the still prudish 1950s, Aimanov included scantily clad people congregating in and around a pool, displaying the newest swimsuit fashions, elaborate hairdos (no less attractive than those in Italian movies) and generally beautiful and talented women and men. As if to polemicize against the lifeless asceticism of Stalinist culture, Aimanov advocates a relaxed and joyful attitude toward life: in his film, attractive physicality is not hidden but proudly displayed, portrayed by a local painter, and even ironically discussed. The humor is mostly situational and good-natured, but the artists involved are so friendly to each other and to the audience that the absence of social references or satire does not come across as a deficiency. The few sourpuss characters who refuse to share the overall good mood are turned into objects of collective laughter.
Most importantly for non-Kazakh viewers, Our Dear Doctor presents a genuine Who's Who of Kazakhstani culture in the 1950s. For that reason alone, it is worth watching today. In various circumstances and decorations, spectators can indulge in the singing of Bibigul Tulegenova and Ermek Serkebaev, the acting of Hadisha Bukeeva and Kauken Kenzhetaev, the dancing of Shara Zhienkulova, and many other stars. It also features – without ever making an explicit point about it – a natural unity between Kazakhs and Russians (after all, the title character, portrayed with comical brio by Iurii Pomerantsev, is Russian), who are forming a well-functioning community. This harmony notwithstanding, most of the featured artists are Kazakh, a visible cause of national pride. Aimanov never hides the fact that the doctor's birthday element of the plot is but a pretext for the musical revue. In several episodes, the story loses pace when the singing takes center stage, and sometimes the lineup of songs is not motivated by any story element at all. There are numerous harmless inside jokes, including when Kapan Badyrov states that "the next song is from the film Our Dear Doctor." There are also very subtle allusions to the Stalin years, as when, for example, when a hairdresser who messed up a haircut is denounced as a "saboteur" (vreditel') with pretended outrage.
Like never before in Kazakh cinema, Aimanov demonstrated a penchant for playfulness from the animated opening credits. A later episode featuring a lullaby is rendered in animation as well. While such devices may have been inspired by the classical 1930s comedies of Grigorii Aleksandrov, the tone of Our Dear Doctor is completely modern; its protagonists are self-confident and belong to another epoch than those of Aleksandrov or Pyr'ev. It seems fair to say that with Our Dear Doctor, Aimanov demonstrated a directorial sovereignty that is both modern and national, yet never nationalistic, just like the culture that this light comedy celebrates.
Arguably the most important quality of Aimanov's film – one that, alas, went largely unnoticed by critics and film historians – is its insistence on bridging the gap between highbrow and lowbrow culture, classical music and folklore, western-inspired Estrada and homegrown patriotic song. The fact that Aimanov included a scene from Shakespeare in an entertaining revue says it all: for him, there was no insurmountable contradiction between the popular and the elitist, and listeners and viewers shown in the film do not make that distinction either. Such synthesis may seem forced today, but in the 1950s it offered a workable approach to culture by ignoring the existing hierarchy of its components and legitimizing them all equally, with emphasis on their enjoyable togetherness.
The film is so demonstratively apolitical that it must have been perceived as a provocation at the time. Moreover, Our Dear Doctor is energized by the new post-Stalinist civility of Soviet society and the degree of national self-confidence that the Soviet center afforded to the peripheries. Aimanov reacted sensitively to these signals and made a film not for critics or ideological administrators but for viewers: both in Kazakhstan, in the Soviet Union, and internationally.
Together with The Djigit Girl (1955), Our Dear Doctor for the first time placed Kazakhstan on the map of Soviet cinema, bringing its people and culture to the attention of millions of viewers. Aimanov's increasing self-confidence as his country's first native filmmaker is based on facts: We Live Here was seen by 12 million viewers in its first year of release and Our Dear Doctor by 17 million – unimaginable numbers in today's Kazakhstani cinema.
Aimanov's Legacy
To some, Shaken Aimanov was first and foremost an outstanding actor. But more significant for the development of the Kazakh nation was his filmmaking. The ability to reach millions of viewers was certainly one of the motivations behind Aimanov's decision to become a full-time director, and his musical comedies gave persuasive proof of his talent for connecting with native audiences and spectators around the world. Of Aimanov's later comedies, Beardless Swindler (1964) contains the most national flavor. Portrayed by Aimanov himself, the title character, whose real name is Aldar Kose, is a mainstay of Kazakh folklore, a fearless jester in hard times who inventively fights the arrogant establishment. Tajik director Bension Kimyagarov later wrote that the character of Aldar Kose – with his joyfulness, wit, and sense of justice – was in many ways a self-portrait of Aimanov, a view echoed by other contemporaries and film historians.
Prior to Beardless Swindler, Aimanov had created The Intersection (1963), a very modern film that became the first psychological drama in Kazakh cinema. This was followed by his best film in artistic terms which was also one that, alas, had the greatest difficulty finding a receptive audience: Land of the Fathers (1966), from a script by Kazakhstan's leading poet Olzhas Suleimenov. The story of an old man traveling to Russia to find and bring home the remains of his son who perished in the Great Patriotic War, the picture is rendered with rare elegiac solemnity and tact. While critics immediately recognized the caliber of this film – one of the true classics of Kazakhstani cinema – contemporary viewers were largely uninterested, a reality that thrust Aimanov into a veritable creative crisis. Likely in an attempt to overcome his self-doubts, he followed it with a musical comedy, Angel in a Cap (1968), before conceiving his all-time greatest hit, the Civil War spy thriller The End of the Ataman (1970). The story of a covert operation to kill one of the militant enemies of the Soviet state, Ataman Dutov, was intriguing, but overall not so much an artistic success as a crowd-pleaser.
There can be no doubt that Shaken Aimanov's legacy as a filmmaker is that of an explorer and pioneer who gave his all to building the foundation of Kazakh national cinema. Aimanov's main goal was to explore Kazakh culture and the Kazakh mentality within the framework of different film genres. In this endeavor, he became a true leader, even though his attempts show undeniable imperfections. Indeed, his desire to explore new territory with each new film prevented him from perfecting his skills in any given genre. This, too, was a sacrifice that he made for Kazakhstani cinema.
Aimanov's untimely passing prevented him from tackling his most cherished project: a large-scale adaptation of Mukhtar Auezov's epic The Path of Abai, which the director had discussed with friends for years. Had it been produced and released in the 1970s, it would most likely have changed the course of Kazakhstani cinema.