Despite the rich artistic traditions of the past, contemporary Uzbekistan can not particularly boast about its popular street art. Even in cosmopolitan Tashkent, public spaces sparkle with pristine purity. On the walls of buildings you can hardly find any murals created by professionals, or the colorful graffiti of "underground artists".
Compared to neighboring Kazakhstan and Kyrgyzstan, where street art harmoniously fits into public spaces, Uzbekistan stands apart. In fact, in the 1990s and 2000s in Tashkent, there was no single, serious work of street art created. At the same time, no official prohibitions at the legislative level for this type of art have ever existed. Why, then, can murals and graffiti not find a place in this country?
Author
---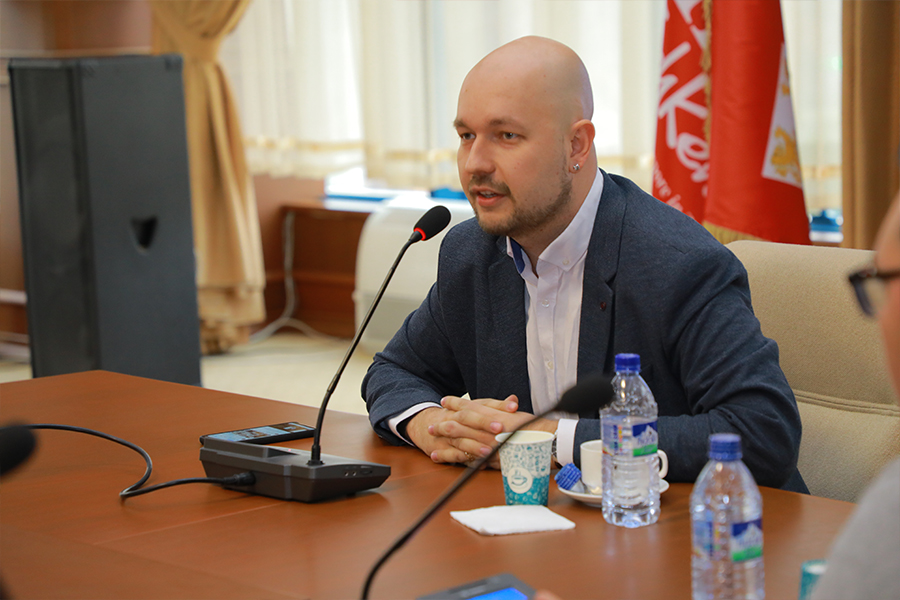 Nikita Makarenko
Nikita Makarenko is a journalist from Tashkent, Uzbekistan. He was a columnist and a special reporter for online media «Gazeta.uz». In 2020 he joined «Uzreport TV» to produce his own investigative TV show. From 2012 to 2015 Nikita led Central Asian arts'n'culture citizen-journalism project NewEurasia.net as the Managing Editor. In 2016, Nikita started his career as a playwright with his play «Airport» staged in the Ilkhom Theater. His new play «Tomorrow» was premiered in Tashkent in February 2020.
Telegram channel: makarenko_channel, Twitter: nikmccaren, blog: https://makarenko.uz/
"In Soviet times, graffiti in Uzbekistan existed only in the form of acts of vandalism. You can still see the scratches caused by tourists on monuments, for example, at the Kalyan Minaret in Bukhara," says Uzbek artist Vyacheslav Akhunov.
Nevertheless, the Soviet government supported one kind of street art that is preserved in the cities of Uzbekistan. Soviet monumental mosaics are smeared on the walls of buildings with a thick cultural layer. Which, however, are being quickly eliminated from both physical and mental memories. Local authorities see them as an "uncomfortable" Soviet legacy, or they simply do not understand their values.
"The snobbish attitude toward mosaics today is replaced by interest and even reverence among those generations that themselves did not live in the USSR. It suddenly turns out that works, which in Soviet times were presented as models of conformism and opportunism, today have a special aesthetic that captures the traces of the Soviet project. But Tashkent mosaics performed primarily a decorative function," said Boris Chukhovich, president of the organization Alerte Héritage, art critic.
Read more: Street Art as a Public Forum in Kazakhstan: Pasha Cas
Being the only type of street art in Soviet Uzbekistan, mosaics did not provide an opportunity for free creativity. They were created via state order and in strict accordance with ideological principles. According to Vyacheslav Akhunov, Soviet and modern Uzbekistan would never voluntarily provide any space for artistic expression in street art. "Pop culture and its lifestyle, the widespread dissemination of rock and hip-hop music, non-conformist art – they simply did not exist. Or existed episodically that never was capable of turning into a mass movement. Against this background, graffiti art had no chance to be born as a new cultural phenomenon. During the tough rule of Karimov, and this, in fact, lasted for three decades, there could be no way to develop free culture and art in the modern sense," – Akhunov said.
Surprisingly, the first major mural in Tashkent appeared only in 2018, 27 years after the liberation from the ideological fetters of the Soviet state, and two years after the death of the first President of Uzbekistan, Islam Karimov. An oriental narrative drawing synthesized cultural codes of Tashkent and Uzbekistan on the wall of a building along Shota Rustaveli Street.
To implement this project, the Mark Weil Theater Ilkhom and the Art Platform project (with the support of CEC Artslink) collaborated with an artist from Ukraine Dima Fatum in the hope that Tashkent artists would want to follow their example.
"We don't have street artists. Our higher art education places a great emphasis on academic and decorative arts. Even at the institute itself, you couldn't paint on the walls," said Nadezhda Riksieva, an art decorator from Tashkent.
The creators of the mural on Rustaveli Street encountered procedural difficulties in creating their work. In fact, the legislation of Uzbekistan prohibits changing the appearance of the facade of a building without the permission of the State Committee for Architecture and Construction. A permit must be received even if the building is private. To receive a permit, one should submit a sketch and wait for the inspector to arrive on a site, and all this takes more than 5 days."We spent a lot of time in order to find a suitable site. The owner of the business center agreed to give us the wall of the building. But we managed to get permission only after the idea was personally supported by the deputy hokim (mayor) of Tashkent Elbek Shukurov. The artists deliberately chose non-conflictive and non-provocative themes. We assumed that there could be problems with the approval of the sketch, "said one of the producers of the project, Irina Bharat.
Read more: Civil Protests, Art, and Politics in Kazakhstan
Many artists and representatives of the advertising industry in Uzbekistan agree that censorship of images still exists in Uzbekistan.
"Previously, all images for outdoor advertising had to be approved by the special organization Tashkent Advertising Service. There were many bans. The family must be shown with the son. The daughter is optional, but the son must be in the picture. Beards are forbidden. People of different sex – only at a distance, preferably standing. Each idea had to be approved for 2-3 weeks, and often we said to ourselves: "The idea is cool, but they won't allow it," says Alina Mirzaeva, director of the Synthesis creative agency.
Alina gives here some real comments received by their agency from censors during her work in the advertising business:
Agency: Girl 5 years old, holding something in her hands.
Censor: Is she holding a miscarried baby? Replace.
Agency: A guy and a girl are lying on the grass.
Censor: And why are they on the grass? Will they have sex now?
After the new president, Shavkat Mirziyoyev, began his reforms, the Tashkent Advertising Service agency, which dealt with censorship, was abolished. Alina notes that work has become more efficient. But censorship has not completely disappeared
On June 16, 2020, a curious incident involving an advertisement of a smoothie bar on Shota Rustaveli Street in Tashkent was widely discussed on social networks in Uzbekistan. The special commission on spirituality of the district municipality first demanded to cover the image of the female surfer in a swimsuit, considering it too frivolous. And the next day, the agency demanded that the image be removed.
Artists believe that the development of street art is hindered not only by censorship of the authorities, but also by self-censorship.
"Street art is the voice. This is a statement of the artist. But there is a stereotype in the minds – that street art, graffiti is illegal. People are afraid to draw freely, they are afraid to offend someone's feelings or have problems with the authorities. If someone is brave enough to start, then the wave will follow. But no one does it. After all, no one forbade it," says Nadezhda Riksieva. "There is no graffiti of social and political protest, openly expressing acute political and cultural contradictions. Uzbek artists do not practice such art, not only because of the fear of repressions by law enforcement agencies but also because of their own position of neutrality. And deprived of these components, street art loses its pathos, meaning, and purpose, and turns into an ordinary meaningless formalization, "says Vyacheslav Akhunov.
However, new names are appearing on Tashkent fences and walls. In 2020, a street artist InkUZart appeared in Tashkent. People warmly accepted his work, and photos quickly spread across social networks. His first works were dedicated to the coronavirus and emotions associated with the COVID-19 epidemic. The fences of the Tashkent residential area of Chilanzar decorated the rethinking of Mona Lisa with a mask, children painting in models of viruses and other subjects.
Over time, the author, hiding under a pseudonym, moved on to more daring works of social meaning. So, his latest graffiti ridicules the consumer orientation of the Uzbek society against the background of a rocket launching into space.
InkUZart has also faced censorship. According to him, the administration of the kindergarten, on the fence of which he painted "Mona Lisa", tried to paint over it. Officials did not like that a lot of people were gathering near the picture. But the author managed to save his work.
"In my opinion, street art is an illustration of freedom. I think that this freedom was lacking in our country. But now it's a different time. I'm more than sure now it won't be the same as before. At least I won't stop drawing," says InkUZart.
---
Read more: Everyday Life in Art and the Art of Everyday Life: Re-Reading Soviet Mosaics in Dushanbe