Author
---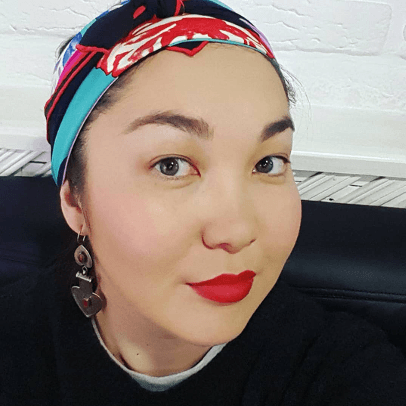 Diana T. Kudaibergenova

Diana T. Kudaibergenova is a Postdoctoral Research Associate on the UKRI GCRF "COMPASS" project at the University of Cambridge. She studies different intersections of power relations through realms of political sociology dealing with concepts of state, nationalizing regimes and ideologies. Her first book, Rewriting the Nation in Modern Kazakh literature (Lexington, 2017) deals with the study of nationalism, modernization and cultural development in modern Kazakhstan. Her second book, Toward Nationalizing Regimes is based on her doctoral research and focuses on the rise of nationalizing regimes in post-Soviet space after 1991 with prime focus on power struggles among the political and cultural elites in democratic and non-democratic states (University of Pittsburgh Press, 2020).
As the global COVID-19 pandemic continues, Central Asian contemporary artists are coming up with new digital opportunities. The private Facebook group "Art Bazar" now has more than 700 members, and more than 100 contemporary art works have been sold in its first month of existence.
These are the the stories of survival, economic and artistic opportunities, and creative solutions that led to this digital community.
I wake up to Facebook notifications and calls from a friend: Astana-based contemporary art curator Aigerim Kapar is calling me and sending messages. "Hurry, Valery Ruppel has listed his Political Botanic series, it's going to go fast!" The new digital community of the Facebook-based Art Bazar is buzzing with messages and "WOW" impressions. It's true; Valery Ruppel, the renowned Bishkek-based artist, has listed his long-anticipated series for anyone to buy online. It is time for all the collectors to gather and offer their bids for the unique series on Political Botanical art – the legendary series that few art collectors possess, and many are hungry to find. These are the paintings of red tulips in forms of fists—gestures to freedom and hope—all dedicated to the commemoration of the 2005 Kyrgyz Tulip Revolution. Both the revolution and Ruppel's listing online are historic events, perhaps the last opportunity to own the famous, politically minded art work. It is time to hurry.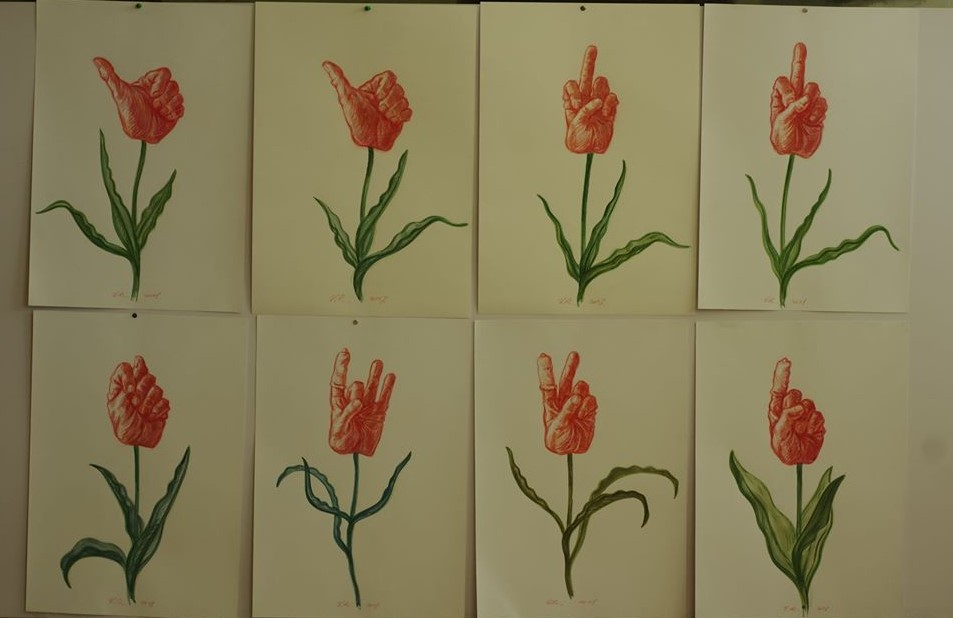 Art Bazar: the beginning
Ever since the opening of the Art Bazar in April 2020 as a way to sell, exchange, and raise awareness about local contemporary art, it has become a phenomenon of its own. Without large exhibitions, museum halls, and auctions, the Bazar offers a unique digital meeting space for sellers, buyers, and appreciators of art. Within the first month of existence, it has already surpassed the expectations of the group's administrators—Bishkek-based artists Meder Akhmetov, Darina Manasbek, and curator Philipp Reichmuth—who envisioned the Bazar as a way to keep local artists afloat during the global pandemic and the financial fragilities that have followed the crisis. For art collectors, it became a paradise form of the art marketplace and hunting ground for unique contemporary art buys. The group follows the tropes of a similar Facebook group set up in Russia—the "Ball and the Cross" (Шар и Крест)—envisioned as a "socially-oriented" group to help out artists. Yet Art Bazar is not just a marketplace for artists to sell or exchange their works. Collectors, curators, and art-minded people all around the world are sleepless, awaiting for new listings to appear in the group.
Every day, renowned Central Asian artists and globally known producers of art have listed their works in an attempt to keep the Bazar going, keeping the buyers anxious and alert on Facebook at all times of day across different time zones. Olga Veselova, Almaty-based art curator and one of the co-organisers of the ArtBat Public Art festival, even compared Art Bazart to the "hot pirozhki" selling space where everything is sold too fast. And the audience is thirsty for more.
Art curators themselves are in a state of shock. Art Bazar, a mere Facebook group, was able to achieve what took years to build—and it has created a viable art market and a space where curators and art collectors alike can discover new names and new artists, as new art collections are sometimes formed within days. All of that without a single attempt to either institutionalize art or put it in a physical space.

The digital revolution is here, others say.
And surprisingly, the global pandemic has provided this window of opportunity for new initiatives in Central Asia's contemporary art field. This is the art field that has suffered from lack of funding, space, and state support; until now, there has not been a single working contemporary art museum in the region that has been able to provide such a variety of exciting names to the global contemporary art movement.
Lack of Market or Emerging Markets?
In 2011, Kazakh contemporary art anthropologist Zhanara Nauruzbayeva signaled some of the important trends that were forming in market for contemporary art in Central Asia, where the shift from Socialist Realist art production as a form of state propaganda, lack of support, and censorship left many artists without a viable infrastructure or market. They were now faced with the necessity of forming their own markets and learning the post-Soviet language of dealing contemporary art. The advent of contemporary art production sparked a push for new forms, themes, and ways of expressions for those who were willing to engage in the "underground" and move away from the stale Artists' Unions in their respective states. Nauruzbayeva conceptualized how the art market for new forms of contemporary art in post-socialist Central Asia now found itself needing not only to produce "socially-minded" art but also engage in capitalist marketization. For years, Central Asian art was an "exotic" treasury hunt for international collectors and expats living in the region. For years, local artists and curators lamented the fact that "local" art grew more toward "Westernization" and was rarely welcomed at home. Art Bazar, however, signals a trend of returning to localization, and there is a growing thirst for buying and collecting art at "home"—in Central Asia.
In Kazakhstan, Sergei Maslov and Rustam Khalfin (both deceased) emerged in the 1990s as the "Fathers of Contemporary Art," with performances and paintings that continuously haunt and impress new generations of contemporary artists in the region. As art historian and curator Aliya Abykayeva-Tiesenhausen writes in her 2016 book, Central Asia in Art. From Soviet Orientalism to the New Republics:
The varied nature of both Maslov's and Khalfin's works was symptomatic to the split in personalities and an artistic tension that has its origin in the Socialist Realist period of Kazakh art. A strong sense of the need for social involvement counters an exploration of a fragile identity, both personal and national, which utilises both factual and invented histories. Nomadism, tradition and modernity find their way into Western-inspired forms of art production (Tiesenhausen 2016:251).
Vyacheslav Akhunov, Almagul Menlibayeva, and Yerbossyn Meldibekov followed these themes in exploring new forms and engaging in contemporary art, and these names are now in the golden book of Central Asia's contemporary art. So are the names of Askhat Akhmediyarov, Viktor and Elena Vorobiev, Ulan Dzhaparov, Gulnara Kasmalieva and Muratbek Djumaliev, Saule Suleimenovf, Kuanysh Bazargaliev, and Valery Ruppel. Their works are widely known abroad and carefully stacked in private collections which, until now, had been outside of Central Asia.
Art Bazar has proven the success almost a decade later. Within the first three weeks of its online existence, the virtual group has attracted more than 700 members and, according to its administrators, sold 130 art work—most of which were sold to collectors and buyers outside the artistic production field. It means that even though artists are collecting their fellow artists' friends works and forming important collections of sketches and legendary works, Central Asian contemporary art is gaining value for buyers who are not artists themselves. Academics and established collectors alike are drawn into the virtual group, ready to wire money for iconic art works, even though the dispatch of the art works themselves will have to wait until the lockdown is eased and borders are re-opened for shipping worldwide. The market is thriving, and money is flowing across Central Asian states on global virtual payment wires—globalization at its best.
Why Central Asian contemporary art? Why now?
What makes Central Asian contemporary art significant in its own time is its impactful way of capturing moments in history, keeping the epoch of post-Sovietness and post-independence stuck on canvas, prints, photos, and videos, and within captured performances. Their way of expression is free from the previous state propaganda or censoring services, whereas their dialogues with the society remain open and wide. Historical events such as the 2005 Tulip Revolution have a great impact on the ways old-school artists re-think this reality and the ways in which new art groups appear—most notably seen with Bishkek-based art collective Group 705. And these initiatives no longer depend solely on formalized methods of engagement and exposure; the lack of exhibit halls, museums, and art fairs has pushed them to the never-ending underground—but also to the public art that thrives. This is what allows Valery Ruppel's "New Forms of Tulips or Political Botanic" to become a legendary and impactful series that every collector was secretly hoping to purchase one day. This is what has created the heightened value of Saule Suleimenova's 1986-1990 series of portraits, which had never been publicly exposed before but are now actively sold at the Art Bazar online.
Since the first day of its online existence, Art Bazar has been buzzing with sellers and buyers—just like a real Central Asian bazar—with numerous comments and side-discussions, agreements for financial and barter-based exchange, and questions addressed and answered. The artists themselves are scattered across all five states of Central Asia, though the most active buyers and sellers (just like the contemporary art field itself) mainly come from Kyrgyzstan, Kazakhstan, and Uzbekistan—as well as from Russia. The Kyrgyz som has become the new internationally minded currency for exchange online, and non-Kyrgyz residents have learned to compare prices and convert from Kyrgyz som to Kazakh tenge, Uzbek som, US dollars, and euros almost overnight. Now, no one at the Art Bazar even questions the base of this financial exchange, and prices from 2,000 to 10,000 Kyrgyz som have become the new "normal" for most buyers and sellers. After all, most of the works listed on the Art Bazar go for half of their real value on the normal art market or the price set by the galleries. In this light, Said Atabekov's classical photographs from the "Way to Rome" or "We are from Shymkent"—which every art collector dreamt of having in their collection—finally became affordable.
First generation Bishkek-based art curator and architect Ulan Dzhaparov even produced a "manuscript" of an ode to 500 Kyrgyz som, which was sold for this symbolic price to capture the moment of the 2020 quarantine epoch. He writes:
"in the usual practice (the most successful) artists mainly used [US] dollars and Euro while selling their work (mostly abroad and in rare occasions in their own homelands) with a minimal change in the price within 100 USD/Euro, and seldomly with the change of 50 [Euro/USD]. Gallery prices or commonly accepted prices of the international art markets were usually unaffordable for the not so rich local audience and [before] it left many art appreciators and buyers outside [the market threshold].
I can't remember anyone pricing their works with 27 USD or 128 [USD]… [artists] did not pay attention to small things.
Quarantine, pandemic and the lockdown regime made many [artists] face the choice – the survival instinct or leaning towards art, own self-development and self-realization. I think introducing the minimal price threshold of 500 [Kyrgyz] som at the Art Bazar is a great luck and a revolutionary step…
500, 1000, 1500, 2000, 3000, 4000… som are the basic units of count. If we take it in USD, then [it becomes] 7, 14, 20, etc. [USD].
One can buy quite serious [art] works for 50 USD at the Art Bazar (50 USD being the usual price inaccuracy in the usual [art] trade), and these works usually cost you 3-5 times more [the present price of 50 USD]. The difference [in price] is not great but it connects the process of trade to our reality.
500 [Kyrgyz] som can allow you to shop for the necessary products (for a small family) for two days.
1000 [Kyrgyz] som – [would allow you to do the same] for 4 days…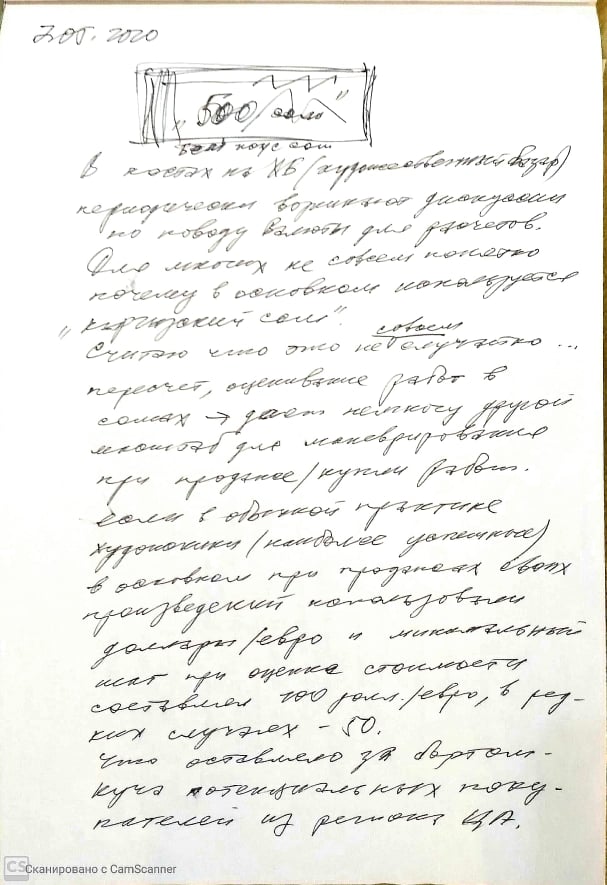 Due to the initial democratic bar for the price of the work set by the Bazarcom and the moderators and due to the social and only half-commercial function of the Art Bazar allowed all of its participants to find a small niche where their interests intersect and the price for the mistake [in pricing] is not that great but the benefit from selling/buying is immediately great.
500 som reminds me of the "Central Asian brick" made of the slighty dried and flat adobe (saman) that built most of the main constructions in Central Asia."
Local art curators are in awe: the art revolution happened overnight and without the usual, formal instruments they thought it required.
Every day, new and young artists post their listings. Every day, collectors and those who understood the mechanisms of the Art Bazar impatiently check their Facebook app on their phones, computers, and other devices. Works are sold too fast, and there are hundreds of additional online bidders waiting impatiently for the artwork to become available.
There are various factors influencing this success story that took a long time to form. Art Bazar moderators set rules in place: all art works should not exceed 20,000 Kyrgyz soms in total (roughly 250 USD), and every seller who exceeds 10 sales has to donate one of their works to the Art Bazar foundation for further exhibition and auction. All sellers keep their books public: every artist who sells up to or more than 10 works must list their audit and mention which of their works they are donating to the Art Bazar foundation. More than 4-5 artists do so weekly in the group, which signals Art Bazar's huge success, even when compared to previous successful charity art auctions and private sales. Artists who list their works are also allowed to exchange their works with other artists. There is no fee for the facilitators of the Bazar. And most importantly, the work is sold on a "first come, first served" basis, which has prompted the "hot pirozhki" analogy of the fast-selling nature of the market.
The treasure hunt goes on…
In the first month of its existence, the Art Bazar revealed such gems as Dilyara Kaipova's early drawings and sketches, Darina Manasbek's and Anna Ivanova's artistic diaries in quarantine, new young artists like Aruzhan Zhumabek and Moldir Sagindikova, Meder Akhmetov's new art form in his series "uyatki" (from the "uyat" as shame in Kazakh, Kyrgyz and Uzbek languages), old works by Elena and Viktor Vorobiev and Ulan Dzhaparov's unique archive, and Askhat Akhmediyarov's sketches, to name the few.
Among the works offered at the Art Bazar, there are also a lot of variations on the current COVID-19 lockdown and quarantine all over the world—and in Central Asia itself. Political contemporary artist Askhat Akhmediyarov offers his practical exhibit object: a mask that is not a mask, but a silencing instrument. Darina Manasbek posts art in the form of quarantine diaries that tell of the endless routine and creeping depression. Yet, in the flourishing of the Art Bazar there is hope; after all, the art market that most commentators in the field predicted would amount to nothing but further internationalisation has now become a local—though digital—form of exchange, trust network, and incredible collecting excitement. Long live the Central Asian Art Bazar!