Last month, an exciting photographic exhibition on Central Asia, entitled "Bound for Life and Education": Sara Eshonturaeva and the Jadid Movement in Soviet Uzbekistan, was shown at Asia House in London.
Author
---
Zaynab Mukhammad-Dost
Independent analyst, specializing in post-Soviet Central Asian politics and international affairs. She holds a postgraduate diploma of SAIS Johns Hopkins University and a Master's Degree in International Relations and Contemporary Political Theory from the University of Westminster.
Sara Eshonturaeva was one of the first professional actresses from Central Asia to become a major theatre star in Soviet Uzbekistan. The great Uzbek actress visited England in 1964 on the occasion of the 400th anniversary of the birth of William Shakespeare. In the fall of 2022, Eshonturaeva returns to the UK as a powerful memory and historical figure, prompting many questions not only about history, but also about the present and the future of her homeland.
Initially scheduled to run between October 25 and October 30, this exhibition of historical documents and photos that make up Eshonturaeva's family archives, was extended until November 4 following a generous donation. The exhibits focused on Eshonturaeva's life and career progression, but in so doing, they remarkably resuscitated Sara Eshonturaeva's forcibly forgotten connection to the Jadids—progressive thinkers in Central Asia who were brutally repressed by Stalin's killing machine in the 1930s. The exhibition also revealed the previously untold story of Eshonturaeva's first love, as well as other challenges she had to endure during the totalitarian era.
As an Uzbekistan native, the more I looked at the documents and black-and-white images tracing Eshonturaeva's life and extraordinary path, the more I felt they served as a reference point and a reminder of issues that still need addressing in Uzbekistan today.
The Idea
When asked about the initiative, curator Niloufar Edmonds explained to Voices on Central Asia how Sara Eshonturaeva's granddaughter and entrepreneur, Nadira Khidoyatova, had exhibited part of her family's archives at the National Bank of Uzbekistan Fine Arts Gallery in Tashkent earlier this year. This is where Esfandyar Batmanghelidj of the Bourse & Bazaar Foundation, "first discovered the Uzbek actress's story and came up with the idea to exhibit these photographs in London," said Edmonds.
The exhibition in London was based on both Eshonturaeva's family collection and the archive of Oleg Karpov, a private collector from Uzbekistan. The UK event was fully sponsored by the Bourse & Bazaar Foundation, and Niloufar Edmonds, an arts and culture expert, was commissioned to work on a unique catalogue with fascinating details about Eshonturaeva's life, career, and historical context.[1]
Having agreed to meet for a coffee in leafy Chancery Lane in London prior to the exhibition, Edmonds spoke about her motivation to work on the project. "Only after a few hours looking at Sara Eshonturaeva's archives, I knew there was a compelling story to be told about how photography and family archival material can shape a society's collective memory of individuals long forgotten and inform the construction of a national identity," she said. She also spoke highly of Nadira Khidoyatova's efforts to preserve her family's archive and personal energy for the project. The curator complimented her and all the present-day Uzbek women who care about restitutional justice and preserving the historical memories of their families, which the authorities attempted to erase from collective memory.
Who Were the Jadids?
The exhibition officially kicked off with a panel discussion on October 25 moderated by Esfandyar Batmanghelidj that included contributions from Dr. Adeeb Khalid, Professor of Asian Studies and History at Carleton College; curator Niloufar Edmonds; art critic Tim Dr Smith Laing; and Nadira Khidoyatova.
"The Jadids had questions on why Central Asia had been conquered and what to do next. They had an agenda to adopt new styles of education"
Dr. Khalid explained that Jadidism was a movement of cultural modernism originated in the aftermath of the Russian conquest of Central Asia in the 19th century. "The Jadids had questions on why Central Asia had been conquered and what to do next. They had an agenda to adopt new styles of education," he said. Dr. Khalid reminded the audience that at similar movements were happening in other Muslim regions of the Russian empire and around the world. "Jadids were hoping to reconcile Islamic tradition with the modern age. This question is still with us," he added.
The Jadids sought to reform society and pursue development via education and the usul-i-jadid, a new method for applying phonetics to learning. Most importantly, they promoted the dramatic arts as vital to education and progress. In their efforts to reform society, the Jadids not only looked at Western plays, but also produced plays of their own. This can be seen from Sara Eshonturaeva's early journey too.
Born into poverty in the Ferghana Valley, young Sara left her family to attend the Zebunniso boarding school for girls in Tashkent, as per catalogue. She missed her family very much and she found solace in the school drama club, taking a role in the play "Indian Revolutionaries," written by none other than Abdurauf Fitrat, the Uzbek writer and renowned Jadid.
During her early education, Sara was also affiliated with other influential Jadids who shaped the Uzbek language such as Abdulhamid Cholpon who translated "Hamlet" into Uzbek. In 1924, Sara was chosen to pursue a degree in the dramatic arts abroad together with a pioneering group of fellow Uzbek students (both men and women) at an institute in Moscow set up due to a government degree from Bukhara in 1923 by Fayzullah Khodjaev, head of the Bukharan People's Soviet Republic. By 1927, Sara and 17 others graduated from the Bukharan House of Knowledge (Buxoro Bilim Yurti), then renamed as Uzbek Institute of Education, as the first official actors and actresses of Uzbekistan, set to return to Tashkent.
According to the exhibition catalogue and the panel discussion, the idea of using the arts for education and progress initially overlapped with the agenda of the Russian imperial and then the Soviet authorities. But this did not last. A critical confluence between the views on the use of arts and education of the Jadids and the authorities began in the late 1920s and by the late 1930s most of the reformists, including Fitrat and Cholpon, had perished at the hands of the ruthless NKVD—the security service that served as the killing arm of the Soviet regime. The Jadids were accused by the Bolsheviks of being "nationalist bourgeois" and were executed on the basis of these made-up charges.[2]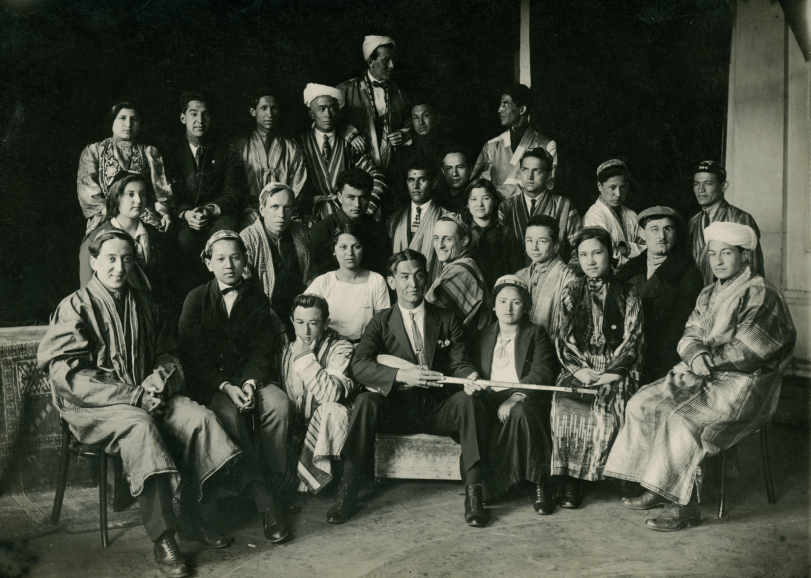 For the young and talented Eshonturaeva (as well as for her future husband, Abror Khidoyatov), the political repressions and crackdown on freedom meant that she would spend years concealing her true feelings and sympathies in order to survive. This resulted in what her granddaughter Nadira Khidoyatova calls a "duality" that many Uzbek people, including her grandmother, had to live with throughout the Soviet era.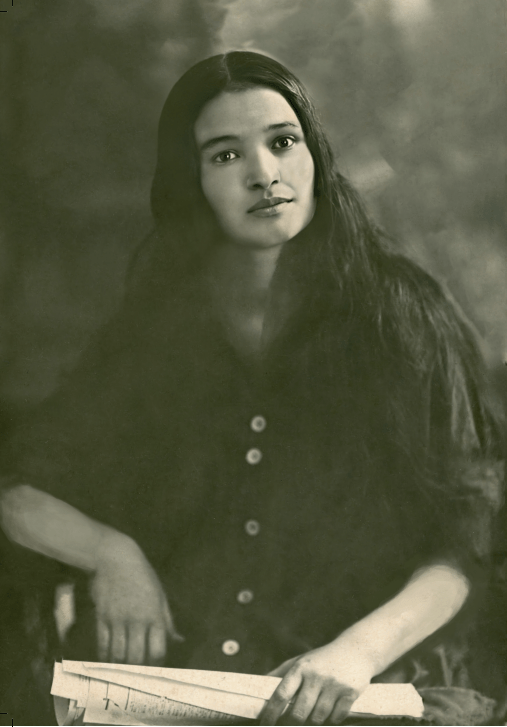 Participating in the Asia House panel discussion via Zoom late at night in Tashkent, Nadira Khidoyatova recalled her surprise upon finding out that her grandmother, a self-described "communist," had been praying in the later years of her life. Similarly, Eshonturaeva could not speak freely about the influence the Jadids, so-called "enemies of the state," had had on her formation. "Grandmother shared with me the secrets she'd kept hidden in the Soviet times. She really wanted to share these with future generations," Khidoyatova said.
The first image of Sara Eshonturaeva to greet those entering the exhibition is the one of her graduating from college in Moscow. It was a rather sad day for the young actress due to her first heartbreak, we're told. She had to say goodbye to her first love Ibrahim Agdarov who also studied with her. But the expression on her face may also reflect a premonition about the challenging days to come. While Sara was among the first 17 Uzbek students to become professional actors, their fate would be uneasy given the growing tensions between the Soviet authorities and the Jadids.[3] Upon graduating in 1927, Sara already lived in a country set on a rather sinister course.
Theatre
The purges of the 1930s had a direct impact on the works that Eshonturaeva and others would perform in theatres. She could not star in original plays written by Jadids. Instead, the Soviets started using theatre—and Eshonturaeva herself—for their own propaganda. Significantly, however, having scrapped the Jadids' original plays, the authorities had no trouble using these victims' ideas and work—including Abdulhamid Cholpon's translations of William Shakespeare's work into Uzbek—to further their own interests.
During the panel discussion, Dr. Tim Dr Smith Laing, a UK-based writer and art critic, explained that Shakespeare's work was permitted by the Soviet authorities, who (quite interestingly) had come to perceive this English writer as a "founding father of Soviet socialist literature."[4] The English writer's work and ideas were, naturally, adjusted to fit the agenda of the Soviet Union. The topic of patriarchy and the need for daughters to be obedient to their fathers seems to have resonated with the Soviets, including Uzbek society. During the discussion, Dr. Dr Smith Laing pointed out that Desdemona had been punished for not listening to her father (i.e., authority) and marrying a "Moor," who then took her life.
Seeing "Othello" from this perspective reveals a clear parallel between how theatre was used by the Soviets and how Eshonturaeva was indeed "bound" by the Soviets, as the title of the exhibition suggests. Whereas the Jadids saw theatre and the arts as means of promoting freedom of thought and education, the Soviet authorities seem to have favored a particular type of plays. Many Uzbeks today know that Eshonturaeva played Desdemona a staggering 400 times, across from her stellar spouse, Abror Khidoyatov, who played Othello, the Moor. The play was a major "hit" in Soviet Uzbekistan: while they both performed in numerous plays, this was the one that turned them into stars. But as an Uzbek woman myself, I cannot help but ask why Eshonturaeva was not put forward to play Caterina in "The Taming of the Shrew"? The answer is obvious. After all, in the latter Shakespeare play, the woman's open disobedience does not result in a tragic finale…
Women's Agenda
It is broadly claimed in Uzbekistan[5] that the Soviet power alone "liberated" the women of Uzbekistan. Photographic exhibitions based on historical archives as well as scrupulous historical research may prove otherwise. As Dr. Khalid mentioned during the discussion, modernist movements were indeed forming in Central Asia and in the world. This process was taking place independently of the Bolsheviks. The Jadids of Central Asia had raised the issue of women's illiteracy, the woes of polygamy, and the need to modernize Islam to pursue much-needed development. Let us recall Abdulla Qodiriy's stance on polygamy as relayed in his famous novel "Bygone Days". Another example is Abdulla Badriy's drama "Juvonmarg," which condemns domestic violence against women.
On the one hand, the so-called "liberators"—the Soviets—did enshrine women's equality in law, abolish the veil, and ban polygamy, but on the other hand, they did not allow women (or men) to live freely as citizens. It should therefore come as no surprise that having Sara Eshonturaeva play Desdemona—a woman who is killed by a man, who symbolizes power and authority—fitted their agenda better than having her play Caterina, a daring female rebel who is "tamed" and…rewarded with love.
Sara's friend Tursunoy Saidazimova was murdered in 1928 by her husband due to jealousy.
This is where I see the paradox of women's emancipation in Uzbekistan come to the surface again. Born into a world where women covered their faces and were even killed for performing as dancers or actresses, Eshonturaeva got educated and rose to stardom in Soviet Uzbekistan. She traveled, saw the world, and became involved in multiple social endeavors. She was free to dress as she liked, yet she was not free to speak about her vanished friends and mentors – the Jadids. She was bound to perform and act in a certain way, keep her thoughts private, and collect photographs and documents in secret until the day came that she was no longer afraid to share them.
Legacy of the Jadids
Like many, I wonder about the relevance of Jadidism and its modernist ideas for today's Uzbekistan and Central Asia as a whole. Given the Jadids' preoccupation with social woes, including illiteracy, lack of social justice, and women's issues, it would be useful to reflect on the lessons to be learned from their legacy.
Nadira Khidoyatova believes the Jadids' ideas are quite important in view of the current development challenges facing Uzbek society. Speaking to Voices on Central Asia, she said: "If, in the beginning, Islam Karimov had embraced women like my grandmother and launched 'Umid' programme to send students to pursue education abroad, he started fearing the progressive ideas of the youth later. In the aftermath of the Andijan events in 2005, Karimov became a recluse and he started seeing them all as a threat. This is why many of those who'd obtained good education in the West left the country. Those who hadn't had such a chance stayed. There is a gradual regress in the society, due to the strengthening of various Islamic groups. Tradition, which had been actively resisted by the Jadids, is making a comeback—marriage is done for a marriage's sake and not for the sake of love and family life; women are being forced into marriage; and feudalism-like patterns, such as total control of mother-in-laws over young girls, are back. There is an Islamization and of an unknown kind. Girls are being veiled, starting from the age of six sometimes. And the hijab itself is becoming more of a fashion statement. All of this is upsetting and so is the rise of domestic violence."
Khidoyatova remains hopeful things can get better due to the post-Karimov thaw and an ongoing social discussion about people's state of mind. "Progress-orientated people both within and outside of Uzbekistan, who hadn't lost their links with [the] motherland, find beneficial ideas in the agenda and philosophy of the Jadids. These ideas fit those who believe in Islam and those who are not practicing any religion," she said. According to her, the main idea is the pursuit of education following European standards, with the aim of integrating the country into the developed world. "It is a spiritual awakening, and an understanding of the Western world, while preserving one's authentic national identity. The entire Islamic world needs to find a way and employ religion to serve as a stimulus for development, as opposed to an obstacle," she elaborated.
New Reformist Movements?
The Jadids as a topic are rather popular in modern Uzbekistan. Activists of all kinds seem to be interested in remembering the early reformists' legacy, applying their knowledge, and even identifying as a new type of Jadids in an attempt to pursue development. In summer 2022 the word "neojadid" started trending on Uzbek social media. So, who are the "neojadids"?
"We already see some people who call themselves 'neojadids,' while others may not openly identify as such, but they do think as Jadids. For now, this is not a consolidated group of people," Nadira Khidoyatova said. "Maybe I could count myself in and so could my sister Nigara Khidoyatova, a historian who studied the liberation movements of Turkestan. There are enthusiastic people, such as Maksud Askarov, who self-finance exhibitions and research the Jadids' work. Others, including businessmen, such as Zafar Khashimov, invest in education. There is also a state center—a group of people under the leadership of Bakhtiyor Khasanov who have access to the state's special archive; they work on a great project of reviving the history and the ideas of the Jadids. Our talented journalist Shukhrat Babadjanov also considers himself a Jadid. Amongst women, I'd like to mention Shakhnoza Soatova, who relentlessly studies and spreads the progressive ideas of the Jadids amongst the women of Uzbekistan. I see a future in these ideas: they can be a life-saving opportunity to cure society and serve as a lighthouse for the Turkic and Persian worlds," she added.
British Imaginations
I asked Niloufar Edmonds about the impression the exhibition and the panel discussion had on UK imaginations of Uzbekistan and its women. She believes it has presented a more nuanced narrative of Uzbekistan to the British public that goes beyond orientalist paradigms of its connection to the Silk Road. According to her, by exploring Uzbekistan's Soviet past as well as its connection to the Jadid movement, the exhibition has conceptualized Uzbekistan in a way that is entirely new for many Britons.
"What is really interesting is that whilst 100 years ago Eshonturaeva was forced to sever ties with her intellectual lineage to the Jadids for self-preservation, her granddaughter, Nadira Khidoyatova, is reconciling this rupture by pioneering a movement amongst young Uzbeks, and Uzbek women in particular, to identify with the Jadids. I think sharing her family's archives allows her to finally speak the truth about many events that were shrouded in mystery or erased for so many years. I hope this exhibition will encourage others to come forward and share their individual family stories and photographs, to weigh in on this conversation around collective memory and erasure," she said.
Conclusion
Sara Eshonturaeva was an actress whose career became a reality due to the efforts of the Jadid movement. She became the national pride of Uzbekistan, making it normal for an ethnic Uzbek woman to act on stage. Eshonturaeva was also a product of politically repressed teachers and had to speak her truth via art, not openly. As a woman, she also witnessed the misogyny around and even lost a dear college friend, Tursunoy Saidazimova to domestic violence. Yet, Eshonturaeva played Desdemona over 400 times! It must have been hard for her to do it and keep it all inside for so long. But the fact that she did provides further evidence that Eshonturaeva was a great actress committed to her destiny and purpose.
Eshonturaeva was not known as a Jadid, but she was their student and an important medium for their original idea to transform a society via art and education. Her dedication to theatre and her mission—her life-long intellectual commitment to collecting all the relevant documents and pictures and even her final "testament" about the first innocent love she had to let go of—may be indicative of her desire for future generations to remember their roots, history,[7] and purpose as they move toward their own future. In this sense, Eshonturaeva may have been an educator—i.e., a Jadid—too.
It is hoped this exhibition provides an opportunity for more people to come forward and reclaim truth and justice. Most importantly, I also hope we will hear more female narratives such as Sara Eshonturaeva's. Stories told by women need to continue being heard in Uzbekistan and beyond, and become an integral part of the formation of a future Uzbek identity. Any reformist movements would be incomplete and not sustainable without women having an equal say in them.
---
[1] A printed version of the catalogue is not yet available to order, however, a PDF is available. Please inquire for further details.
[2] This was the fate of many Jadids in Uzbekistan and Tajikistan. See "Ispoved" by Masud Rasuli, O'qituvchi, Tashkent, 2000. Republished and updated version (2022) available at https://reader.bookfusion.com/books/2417609.
[3] https://mailchi.mp/bourseandbazaar.com/bound-for-life-and-education-exhibition
[4] From Dr. Tim Dr Smith Laing's article in the catalogue, we discover that William Shakespeare was admired by Karl Marx which may have contributed to such a warm reception.
[5] It is a popular cliché among many Russian-speakers, including Uzbeks, that the Russians "civilized" Uzbekistan and the region. This "white man's burden" narrative is also frequently encountered in pro-Kremlin media in Russia. As of February 2022, if not earlier, Tashkent must be somewhat uncomfortable knowing of yet another "liberating" mission that Moscow may pursue in an undesired turn of events. The government in Tashkent must be walking a tightrope trying to balance things out.
[6] Soviet Uzbek politician, First Secretary of the Uzbek Communist Party between 1937 and 1950.
[7] Sara Eshonturaeva is the mother of Goga Khidoyatov, a prominent Uzbek historian. At the opening of the exhibition at Asia House, a short film was played that showed Sara Eshonturaeva, in later years, watching archival footage of her fellow actors in their younger days. She smiles and exclaims, "Show this to my son, please, let him watch it!" prompting appreciative laughter from the audience.